On my photo tours I hear a lot of foreigners saying:
"Oh, hungarian money is so confusing"
"It's Monopoly money".
And so on…
In this short and straight-to-the-point article I will introduce you the hungarian forint. What notes and coins it has, and I also give you tips on exchange and share my personal opinion.
Forint banknotes and coins
Hungarian forint is one of the oldest moneys in Europe: the first forint dates back to 1325!
At that time they used the design that came from Florence, Italy. Hence often is was referred to as florin, even in the 19th century.
However, nowadays, it's officially named forint, NOT florin.
Spanish still can it florin, but English should call it forint 🙂
Hungarian forint is abbreviated to HUF.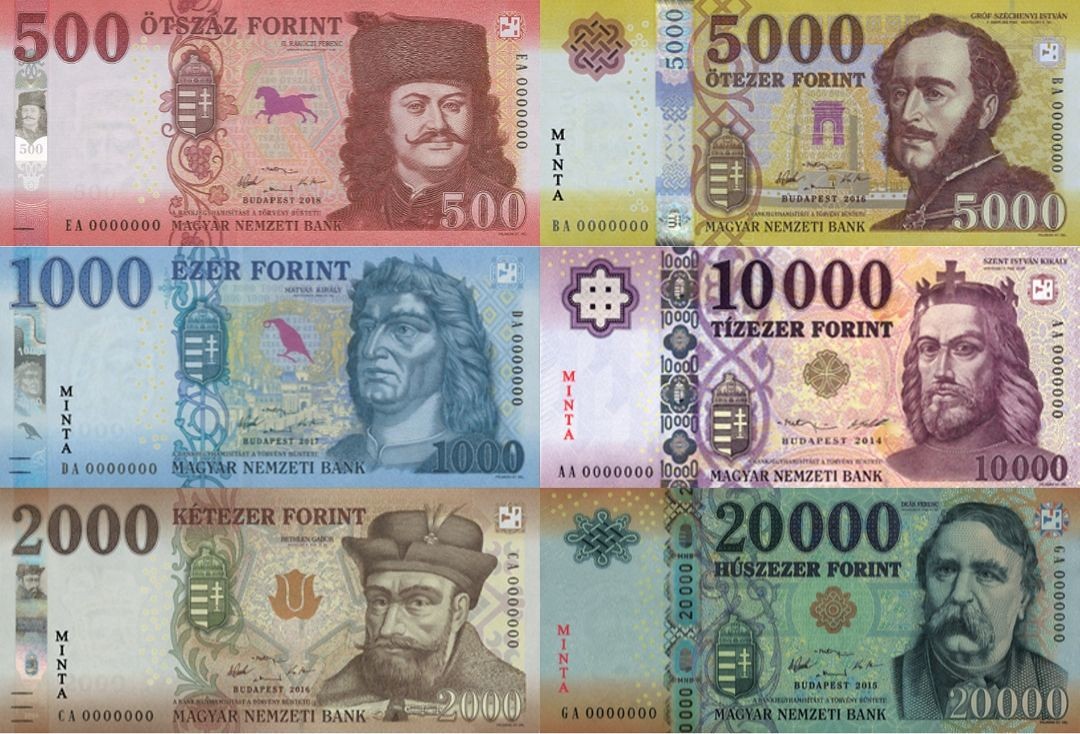 Forint has no "cents". We used to have fillér, which was similar to cent: 100 fillér used to be 1 forint.
But as the forint got inflated in the 1990s, using fillérs did not make sense any more, and they were withdrawn.
The 1 forint and 2 forint coin was also withdrawn, that's why the smallest forint we have is the 5 forint coin.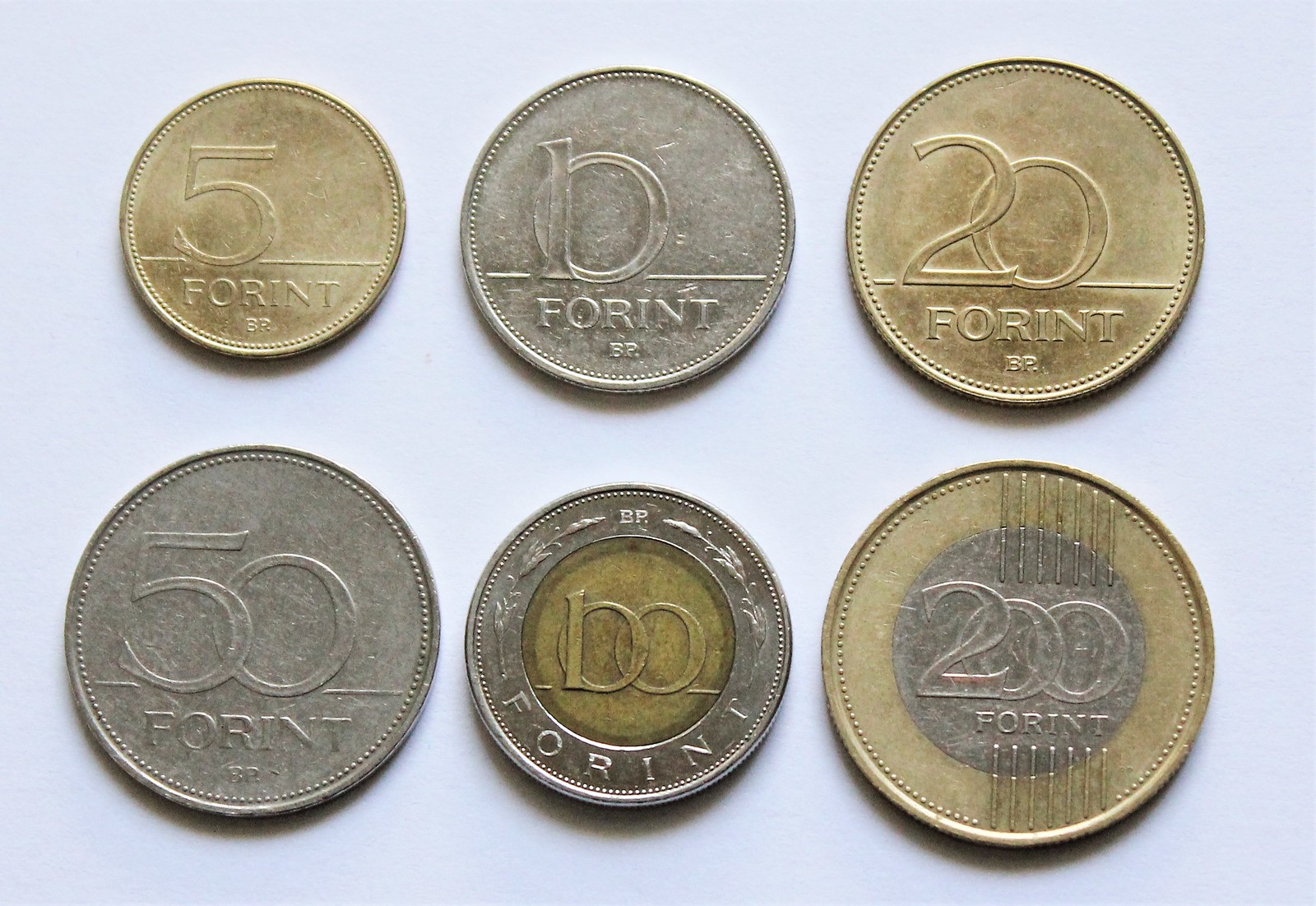 You can clearly see that the 100 forint coin is the odd one out in terms of design and size.
To be honest, I don't know why they went with this design.
Forint to USD exchange rate
As of October, 2019, 1 USD equals roughly 300 HUF. This makes it very easy to calculate with.
Historically, the USD-HUF rate used to be around 250, but due to the hungarian government financial policy, and the uncertainty of Brexit, forint tanked in the last year.
At least it's good for the tourism 🙂
Here's a graph showing the USD-HUF exchange rate over the last 10 years:
Forint to EUR exchange rate
The same weakening can be observed with the euro to forint exchange rates.
1 euro equals to around 330 forints as of 2019, October.
Here's a graph showing the EUR-HUF exchange rate over the last 10 years:
Where to exchange hungarian forints?
There are dozens of money exchange places in Budapest, and also in every bigger cities across Hungary.
Money exchange in hungarian is Pénzváltó.
Almost everywhere they speak English, so you should have no trouble.
Before exchanging, make sure to check not only the exchange rate, but also if they have any kind of commission as well.
Some places have very attractive exchange rates, but they throw a hilarious commission fee on you.
Here are money exchangers in Budapest (on Google Maps)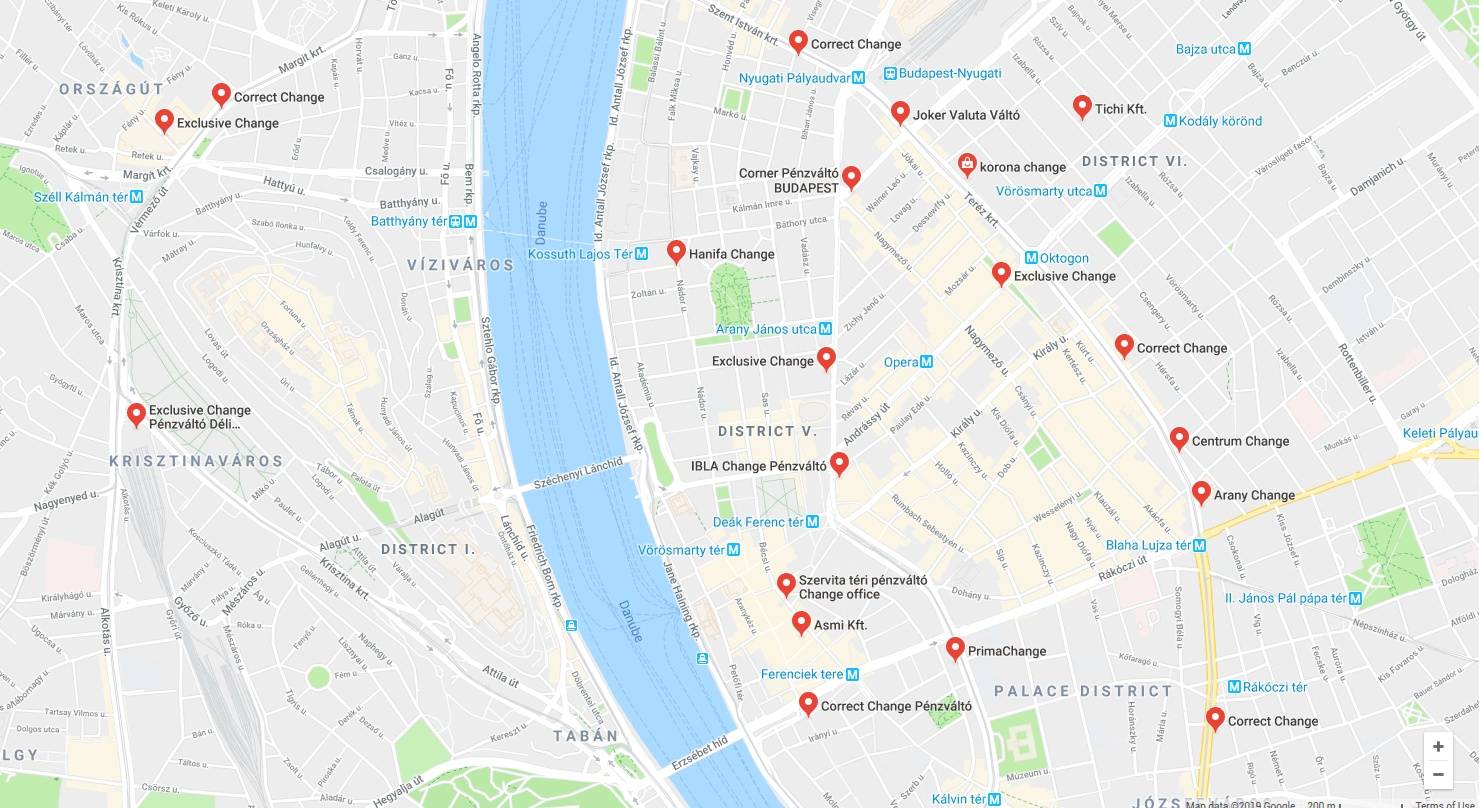 Do they accept euros in Hungary?
Not officially, but at many tourist-frequented shops euro is also accepted.
But please keep in mind, that they accept it at a pretty bad exchange rate, and almost always they will give you back in forints only.
Why doesn't Hungary have euro if it's in the EU?
This is something people ask me all the time!
Although Hungary is part of the European Union since 2004, and Hungary wanted to introduce euro for many years, we were not allowed to do that.
The answer is simple: if a country wants to join to the euro-zone, then it needs to fulfill several financial criteria.
This is to protect the euro from getting weaker, otherwise a badly performing economy would have serious effect on all the other countries using euro.
My personal view: most hungarian people would not like to get rid of forint in favour of the euro.
Especially, the current hungarian prime minister, Viktor Orbán, would not want that, as he is always preaching against the EU.
Why I think the forint is a cool money?
Another personal opinion of mine.
As someone born and raised in Hungary I take pride in having a currency that can be found only in this country.
Instead of using an all-the-same euro, we have a national money!
Of course, this often causes problem in the economy, but still, many people are quite attached to our historic money.
Few other things why I prefer forint to the EUR / USD…
Forint notes have equal sizes. Unlike the euro, where the 5 euro bill is so much smaller than the 100 bill. The 100 EUR bill is so wide, that it doesn't even fit into a normal wallet!
Whereas the hungarian forint notes have equal sizes (154 x 70 mm).
I also like the fact every forint banknote is different in color. I always have a hard time to read the different US dollar bills – only the pictures and numbers are different there, the color is the same.
Have fun using the hungarian forints! 🙂