After we finish our photography tours in Budapest, my guests are always asking the same thing:
Where can I eat some good hungarian food in Budapest ?
Here are my recommendations. Some of these places we also visit when doing the Food Tour.
Retro Lángos Büfé
Lángos, a deep-fried flatbread with is the number 1 street food in Hungary.
You can't have it in restaurants, only in buffets, or markets.
Retró Lángos Büfé in downtown Budapest is one of the best places to have lángos!
(They have moved into a new, much better place in summer 2020)
This is one of the best places to eat lángos in the city.
Lángos is a fried flatbread, on which we put several toppings. Typically garlic sauce, sour cream and cheese, but here it can be "fortified" with sausage, bacon, onion, etc.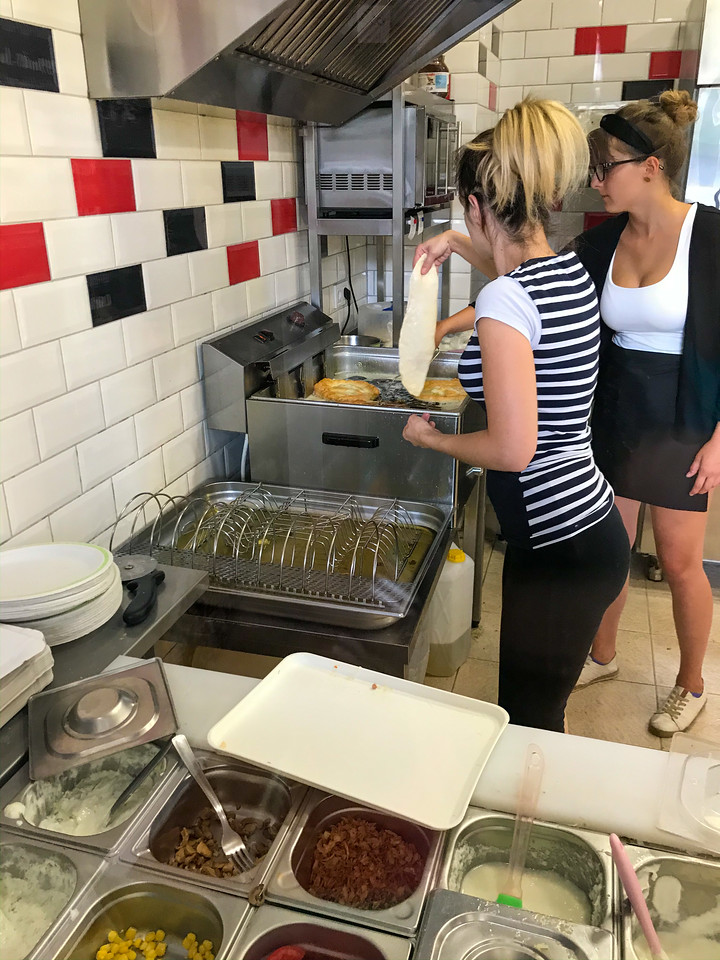 My favourite: the "hungarian" lángos with sausage and onions
They also make pancakes. The hungarian pancake is more similar to the french crépes, so don't expect the same thickness as the american ones.
My recommendation on pancakes: try apricot jam filling and cottage cheese (túró) filling
They are also super-cheap and open until late night. The only downside is that you can only eat outside, and the number of seats is limited.
As they are very highly rated on Tripadvisor, expect a lot of foreigners here, although the locals also favor this place.
Food court at Hold Street Market
Located very closely to the Lángos Büfé is the Market at Hold street.
This is the Market Hall (Belvárosi Piac és Vásárcsarnok) that you should visit instead of the Central Market Hall at Fővám square.
While the touristy Central Market Hall is a lot bigger, it is also a lot more expensive, and there nearly aren't as many good places to eat. Also the food court part at Central Market Hall is very narrow, which makes it totally uncomfortable to eat.
So my recommendation instead is the Market Hall at Hold street. It kind of looks like the Central, but much smaller. Very importantly, it has the highest quality food court in the city.
Many of the best chefs in Hungary have their streetfood bars here at a much affordable price.
Here are some.
Market Hall at Hold street on Google Maps
Buja Disznók (Lush Pigs)
The No 1 place to eat fried pork cutlet (Wiener Schnitzel in german). Owned by a famous hungarian chef (Lajos Bíró) they will wow you with huge portions: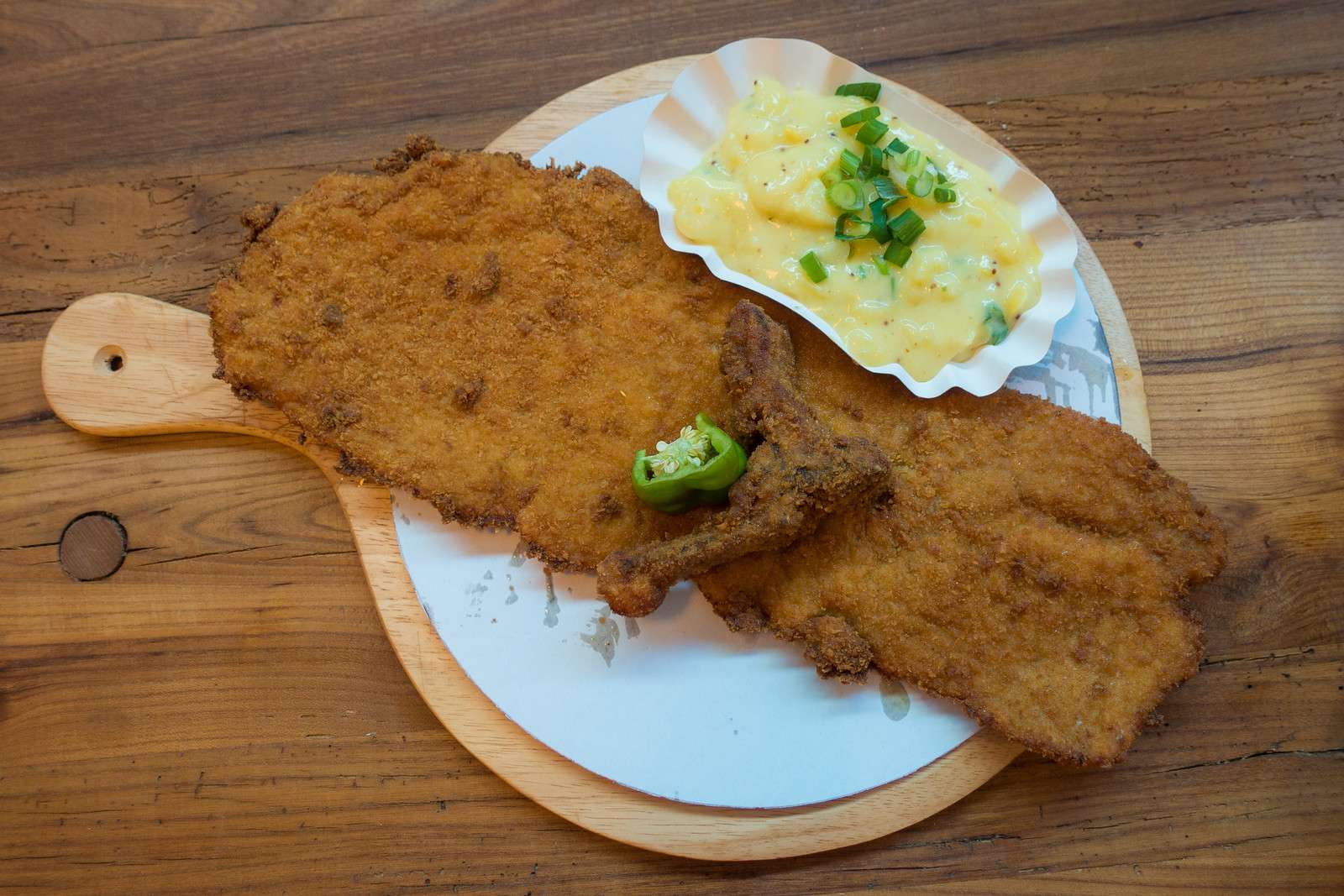 Recommended side is potato salad.
Kolbice
Kolbice is my #2 streetfood after lángos.
It is sesame coated bread-wrap stuffed with different sausages, sauces and vegetables. You can pick one of the pre-mad combinations or select your own stuff.
This is not their only shop, there are many other in the city, and they are always found at bigger festivals, events.
The typical homemade hungarian dishes: Gettó Gulyás
A relatively new place in the party area of the city, almost next to Simpla ruin pub is the Gettó Gulyás.
Praised by many hungarians they have the kind of dishes that hungarian families actually cook. There's a wide variety of stews, and their túrógombóc is said to be phenomenal.
Desszert.Neked pastry shop
One of my favourites when it comes to desserts…
Desszert.Neked is a small confectionery shop / café near Deák Ferenc square.
They are specializing in french style mousse and tarts and redesigned traditional hungarian sweets, and are constantly combining new flavours.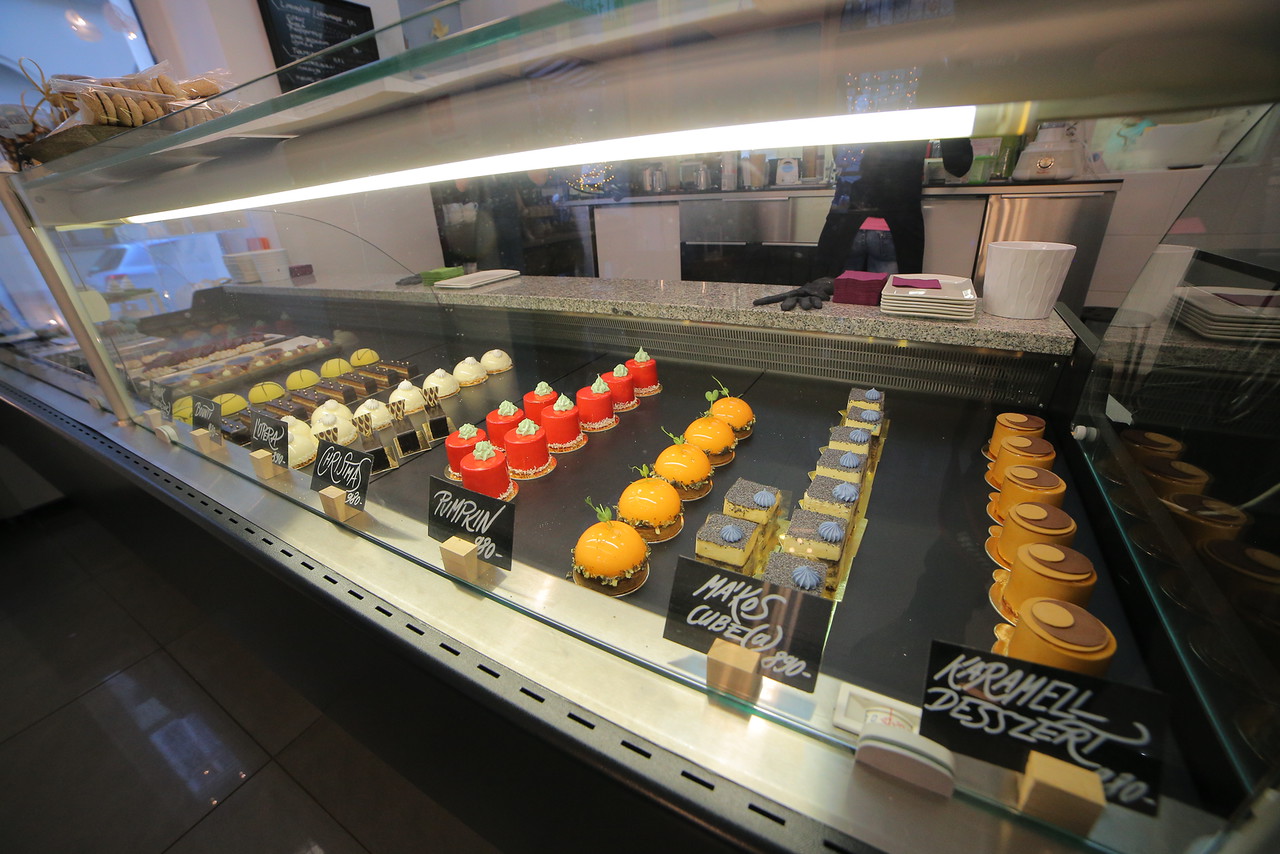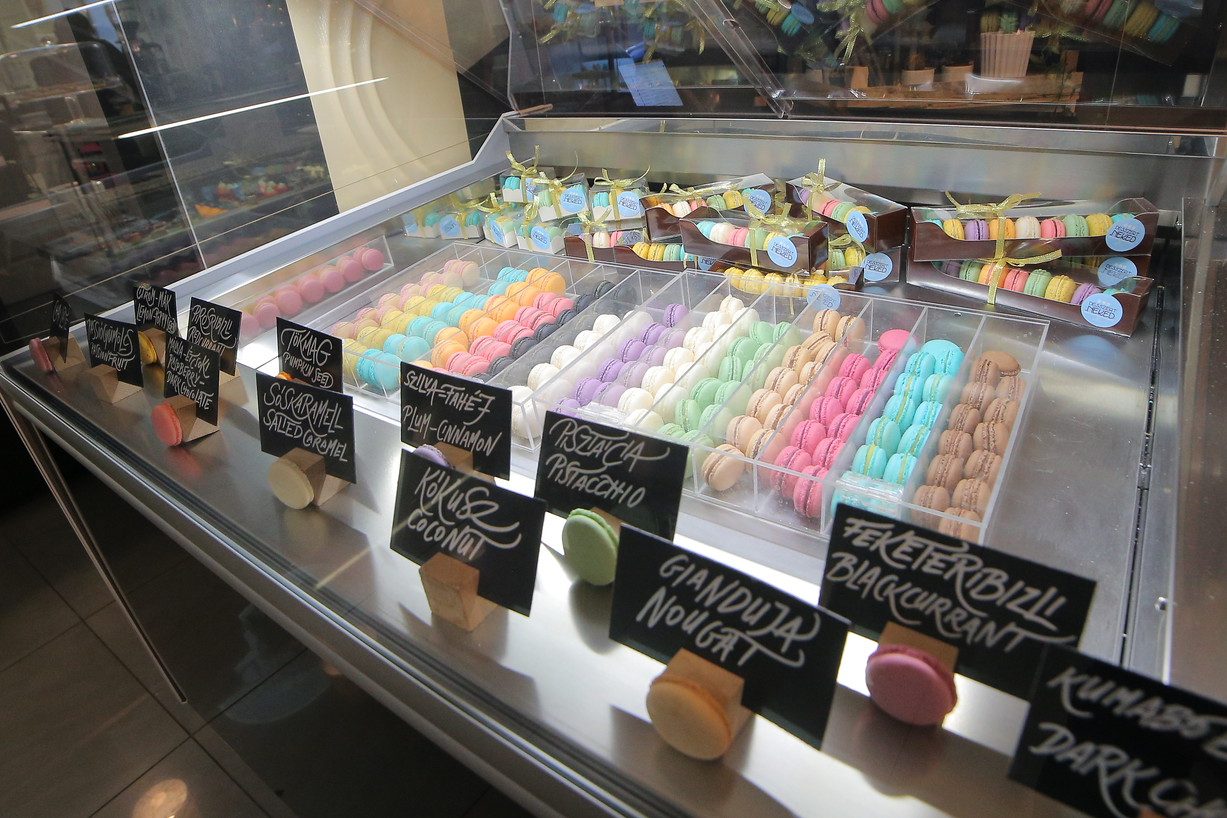 The passionfruit-dark choco mousse cake is a must-have here, just as the choco-banana mousse cake, and all the others 🙂
They are also kid-friendly.
Website (hungarian only) and on Tripadvisor
Better macarons than in Paris: Chez Dodo
Small shop next to St. Stephen's Cathedral, they focus on one thing only:
Making super-delicious macarons.
They don't offer anything else, just macarons (okay, they have coffee). So they must be pretty damn good to stay alive 🙂
Although not a hungarian sweet, I highly recommend checking in, and just ask one of the lovely girls which flavour she recommends.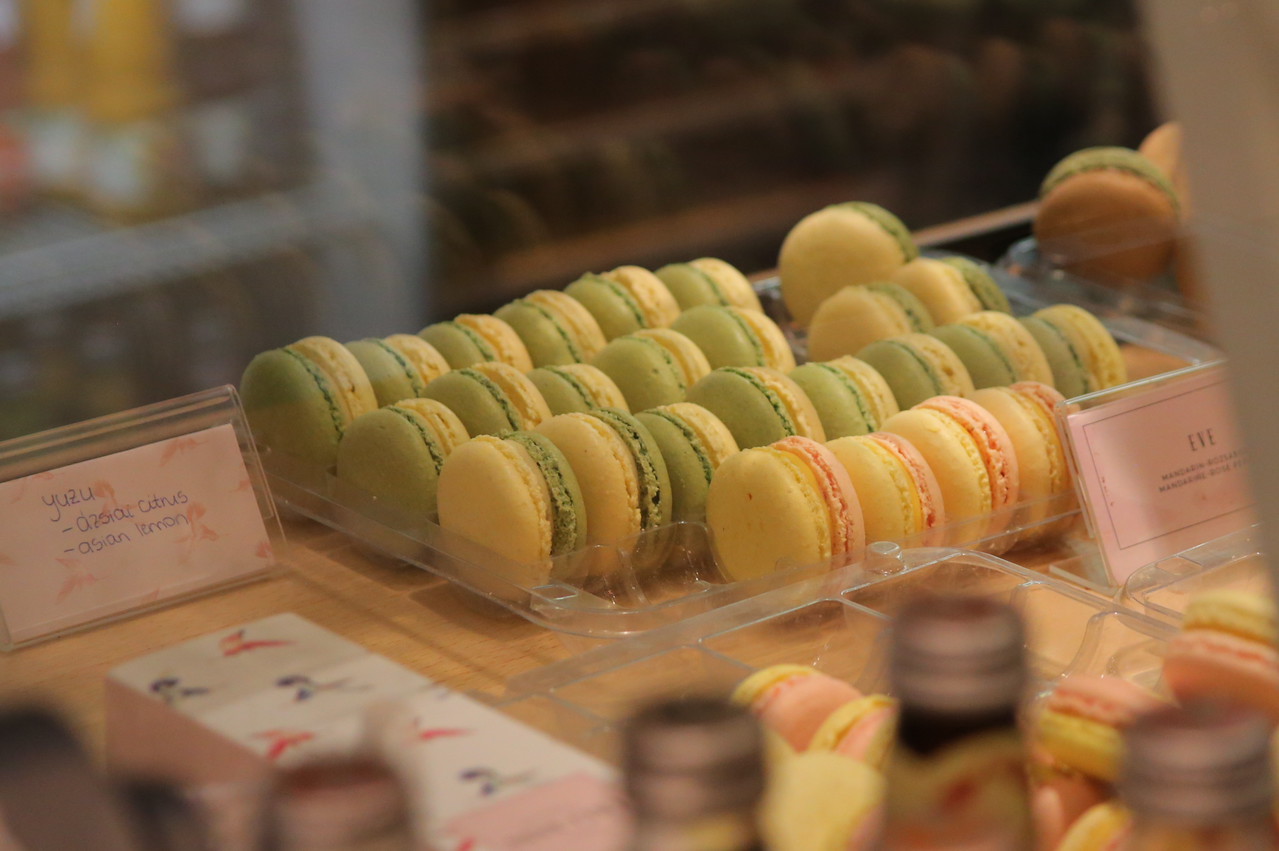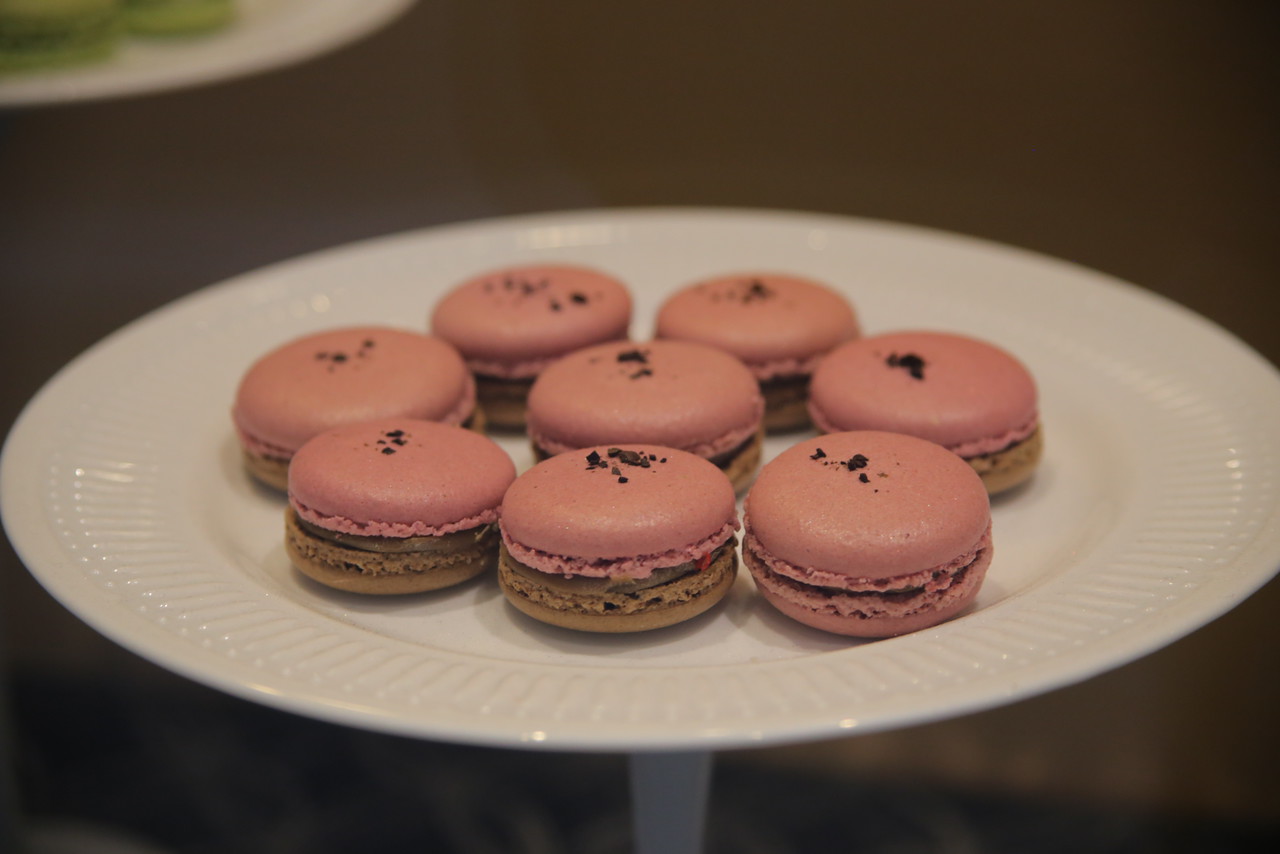 My experience: buy twice as much as you would think…
Chez Dodo on Facebook and on Tripadvisor
Gerbeaud confectionery
The highest quality and the No 1. pastry shop / café of Hungary. Located at Vörösmarty square, this is where the finest interiors meet the finest tastes.
They are always using in-house sources (like the apricot jam used in Gerbeaud cake is cooked here), and focus on not too many things at once: classical hungarian cakes are refined here into modern creations.
Expect 2x higher prices than anywhere else, though.
Gerbeaud's website and Tripadvisor
Szamos confectionery
The "other" famous confectionery in Hungary is Szamos. They have numerous marzipan shops and cafés all around the country, but one of the best is at Vörösmarty square in Budapest.
Though it's quite difficult to find the entrance of the place, they have a booth on the corner of the square, just next to the entrance.
This is purely the traditional line here, both in tastes and in the shapes of the cakes. Nothing hyper-modern fancy stuff here, only tasteful hungarian cakes and pastries.