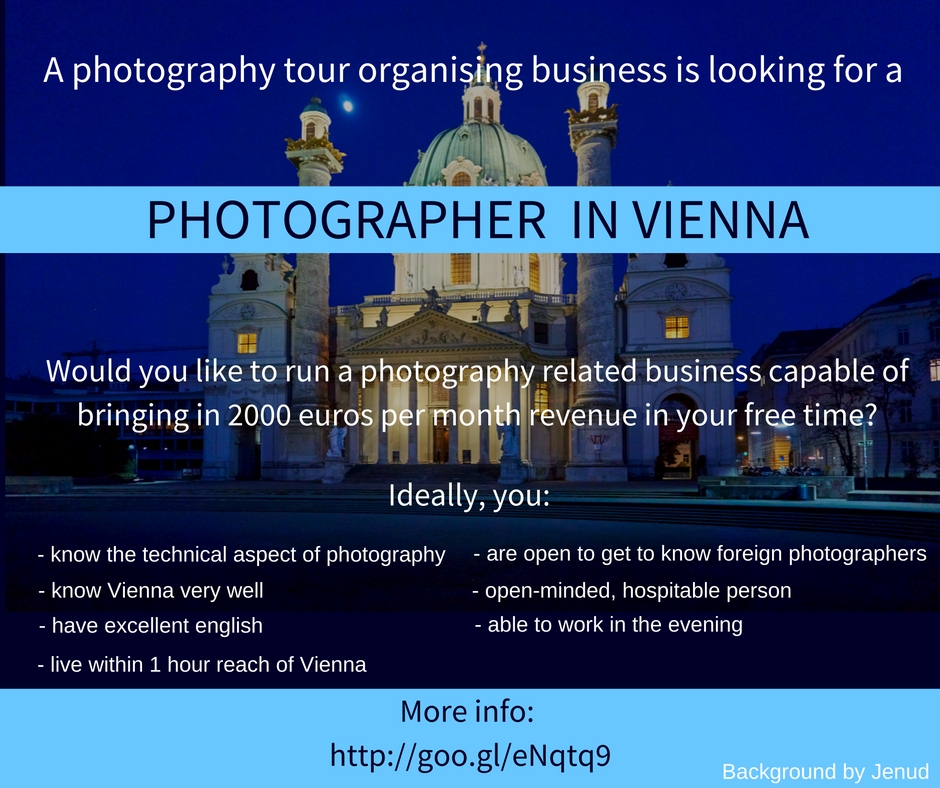 Hi, I'm Miklós Mayer, the founder of Photo Tours in Hungary.
I help foreign photographers to take better pictures when they come to Budapest. I show them the best spots in the best time, and give them advice on how to get the most of their cameras.
Fortunately, the feedback is pretty reassuring: those photographers who have only a limited time to spend are very grateful for me showing those hidden photo spots and even helping them out.
Check out my Tripadvisor reviews here.
[envira-gallery id="882″]
Most of the people who visit Budapest, also visit Vienna and Prague. And they usually ask me: do you know a photographer guide in Vienna or Prague?
In Prague, I know my friend Jan Miracky.
But in Vienna, I don't know anyone…
In fact, after a quick search, I don't see anyone doing the same business as we do. Which is organizing approx. 4 hour long nighttime photography tours in our beloved city and teaching our guests how to take cool nightscape pictures.
Being a photo tour guide is plain fun:
you meet new people from all over the world
you walk around and enjoy the best areas of your city
usually you too have time to take pictures
you even get paid for it! 🙂
Would you like to do this too?
Before you jump in, let me tell you how I got started.
When I started this business, I thought it would be super easy: I create my website and then the people would be flooding to me.
Well, it wasn't this way… Making the website wasn't that easy at all, because even I didn't know what the clients really want. When it was done, I was super happy: I've set up a promotion at a travel photography site, and…
No one came for 3 months.
I was just about the cancel the whole thing when my first guest booked.
Then as more guests came, I had to realize what things work, and what don't. I also discovered the best ways to promote myself – without spending money on ads at all!
So if you feel like a good fit doing a similar business, here's my offer for you:
I help you get started and have your first guests. I set up your website and will show you what promotion pathways work and what not.
You will not need to pay me anything at all. Once your guests start to come, we will split the revenue, in a way that you keep at least 80%.
In the summer months this will typically mean between 1000-2000 euros of revenue per month.
The work would mainly be in the afternoon / night, so you can even do it next to a 9-5 job.
I think it's a pretty good deal.
You should meet these criteria:
you are a positive, open-minded guy/girl (at least 18 years old, but no age limits)
you know the technical aspects of photography and you can easily help anyone identify their photography problems
you know Vienna inside-out
you have very good written and spoken English
you can make your evenings free
you live in or around Vienna
It's an advantage if you're a native austrian, but you don't have to be one.
If all this sounds great for you, and you'd like to try it yourself, please fill out this form.
Please allow me to process all submissions. I will try to answer everyone.