It's been the second year of running my photography tour business in Budapest, and at the end of the year it striked me:
I hardly took any new pictures in 2017!
But still, I wanted to make a collection of my favourites in 2017. Luckily I still take photos when I see something extraordinary (like special clouds, ships, people).
As always, just click on any of the images to make them appear larger.
Awesome blue-lit river cruise ship caught
There's one river cruise ship that has this awesome blue light running around the whole deck. Perfect for lighttrails! 🙂
This one was taken from Buda Castle looking down at the Chain Bridge and Parliament:
Technical details:
Canon 6D, 28-105mm F/3.5 – 4.5 USM, f/16, 10sec, ISO100
Post-process:
6 Viking river cruise ships leaving Budapest – Blue Hour timelapse
Taken from the Citadel on 26th August, 2017. It was a very warm summer evening, and I was on tour with an american guest. He was almost 80 and was extremely fit! 🙂
Luckily he had a tripod too, so I set my camera to take exposure every 3 seconds. While the timelapse shooting was running I was able to guide him about night photography.
Vajdahunyad Castle in the sunset
On the photo tours in summer, due to the late sunset we have some time in the Golden Hour (the hour before sunset). And we often visit Vajdahunyad Castle, which is located behind the Heroes Square.
It looks different from day-to-day: sometimes the water gets dirty, sometimes the clouds aren't there, sometimes the sun isn't that great.
I think in this shot, everything was perfect: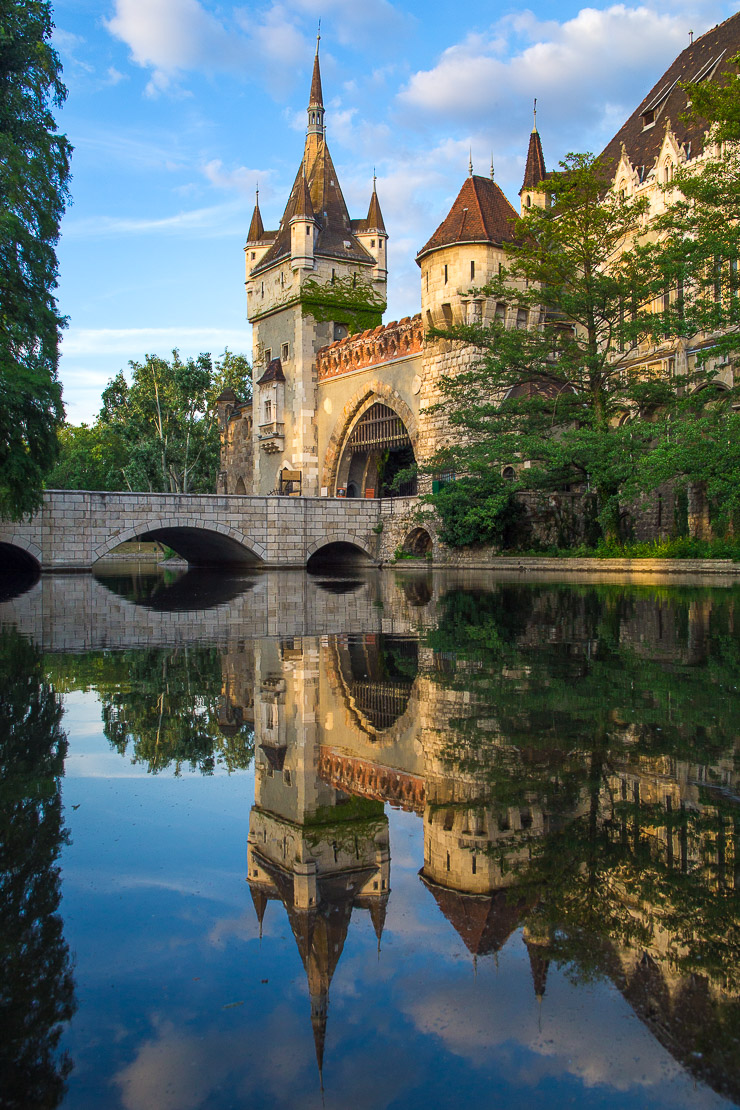 Technical details:
Canon 6D, 28-105mm F/3.5 – 4.5 USM, f/8, 1/160s, ISO400
Post-process:
Here are the screenshots from Lightroom's Develop module: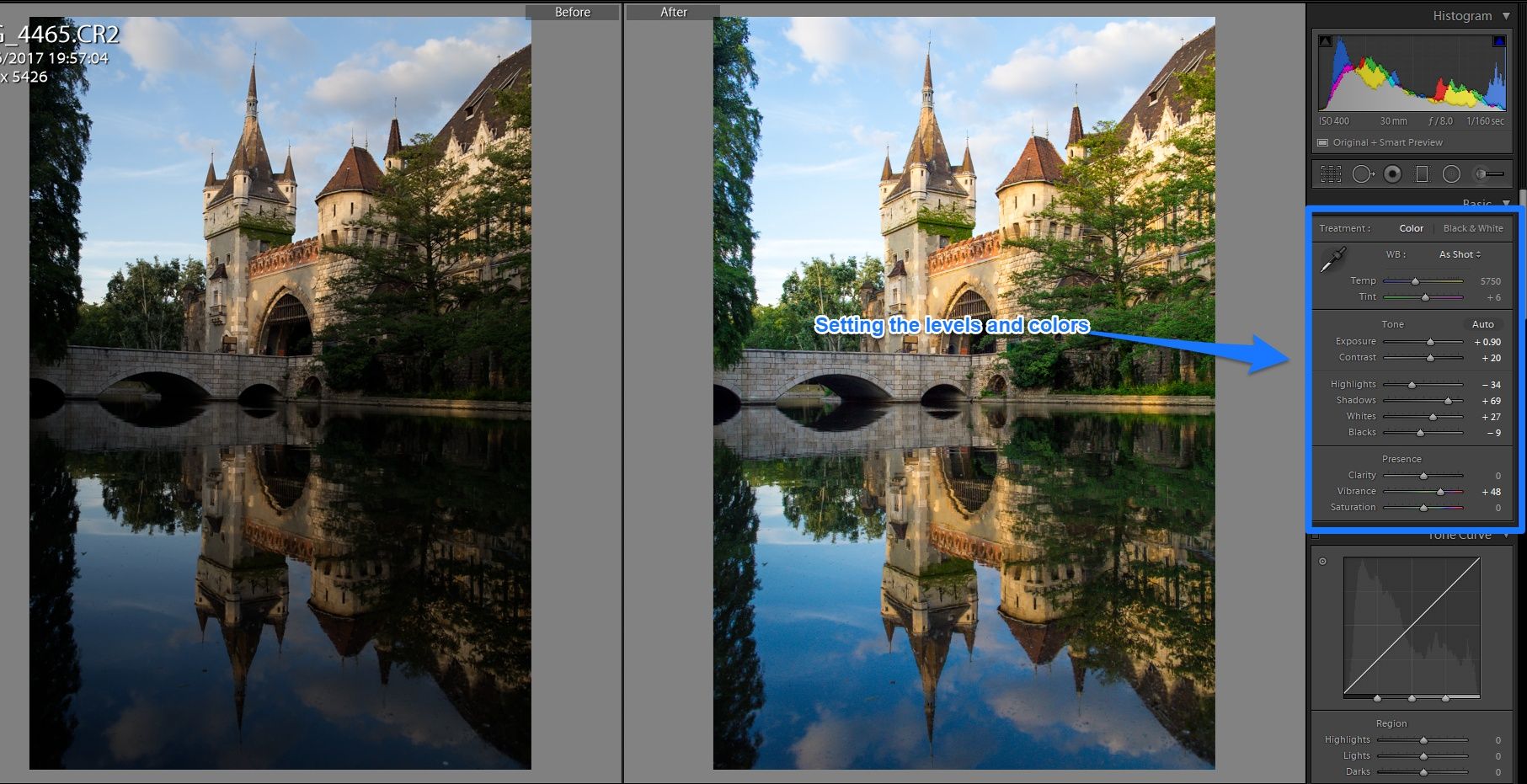 Quite good now, but I'd like to make the sky less bright to bring out more detail in the clouds. This would also cause deeper colors there.
So I go for Lightroom's epic graduated filter tool (M).
Lighttrails at Chain Bridge
Can't get enough of lighttrails! 🙂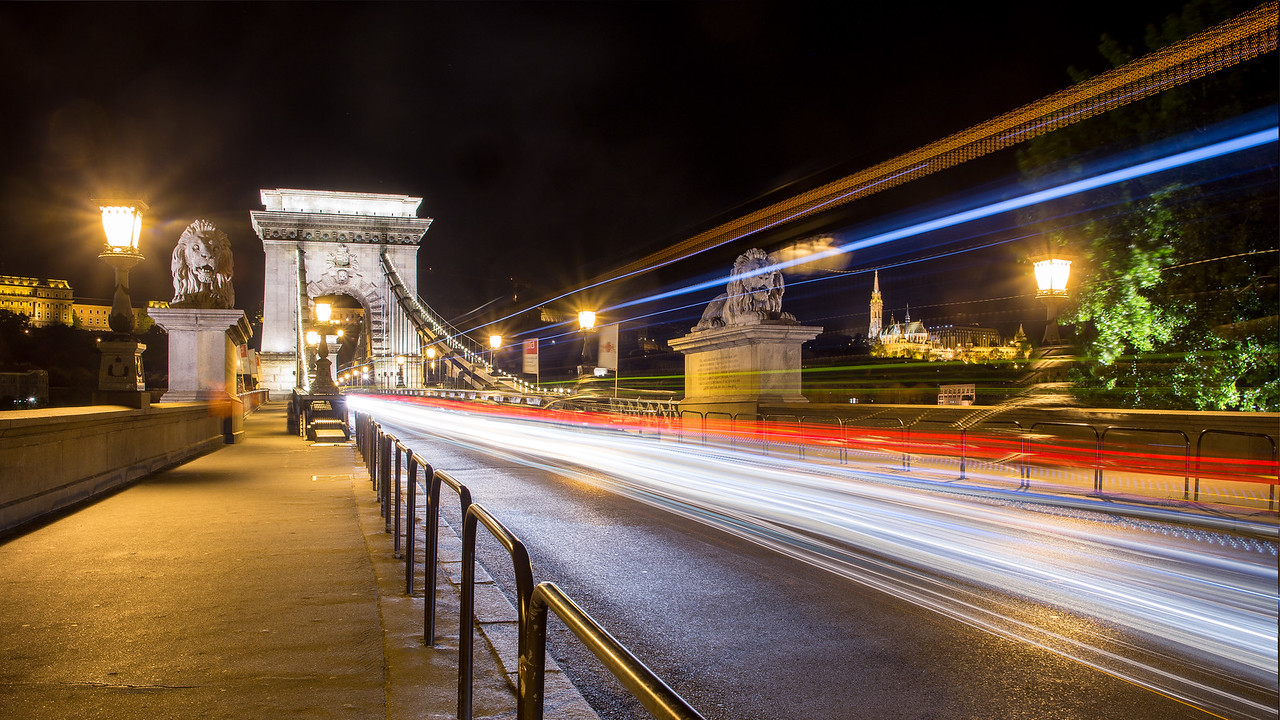 This is a bit tricky: it wasn't a single exposure, but many exposures put on top of each other in Photoshop: it's called the Stacking Technique. The complete workflow is explained in this article.
Fishermens Bastion and Mathias Church from the top of St Stephen's Basilica
Funny that it took me so many years to get to the top of the Basilica. The main reason is that on my tours I try to avoid this spot because it's extremely crowded. But on this chilly autumn afternoon, there was hardly anyone.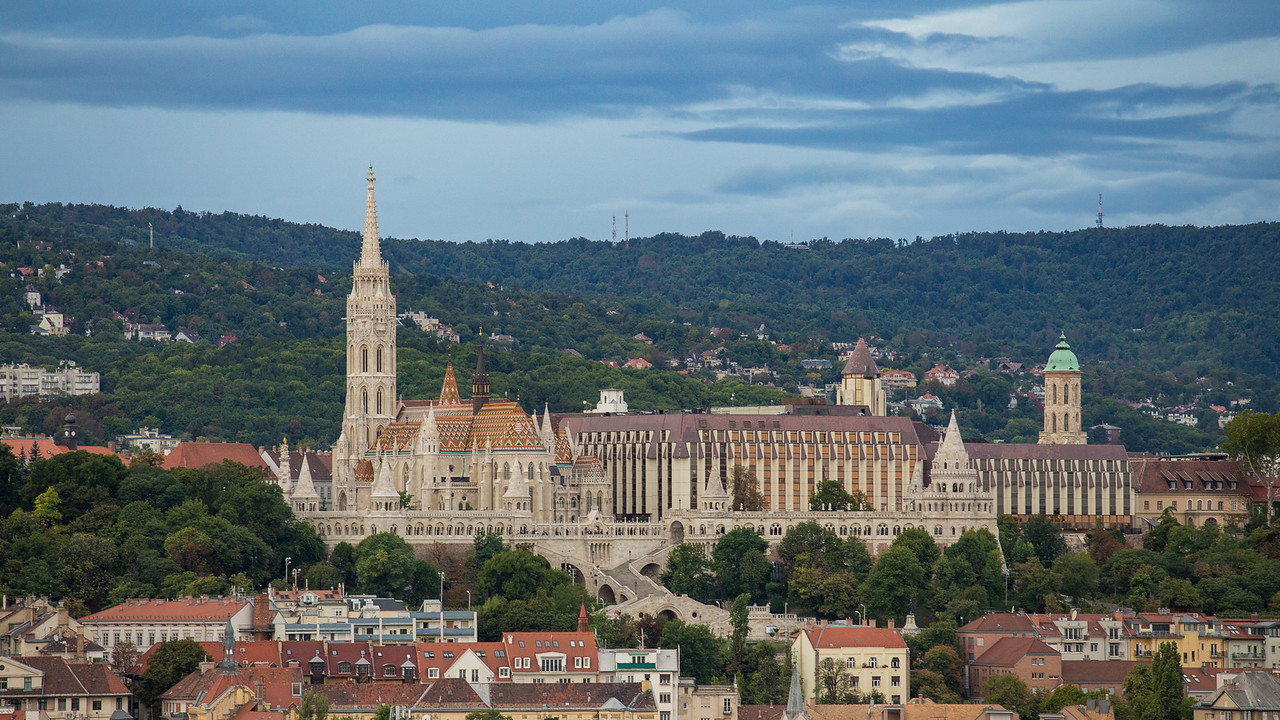 St Stephen's Day fireworks as seen from the Castle
Every year on 20th August Hungary celebrates St Stephen's day. Pretty much the same big festival as 4th July in the US.
The biggest highlight is always the fireworks: people are occupying the best spots hours in advance. I was lucky: my wife and son managed to get a bit of stretch on the walls of the Castle, so these pics were born.
By the way, after this I promised to my family: no more August 20th fireworks in Budapest, because it was that crowded.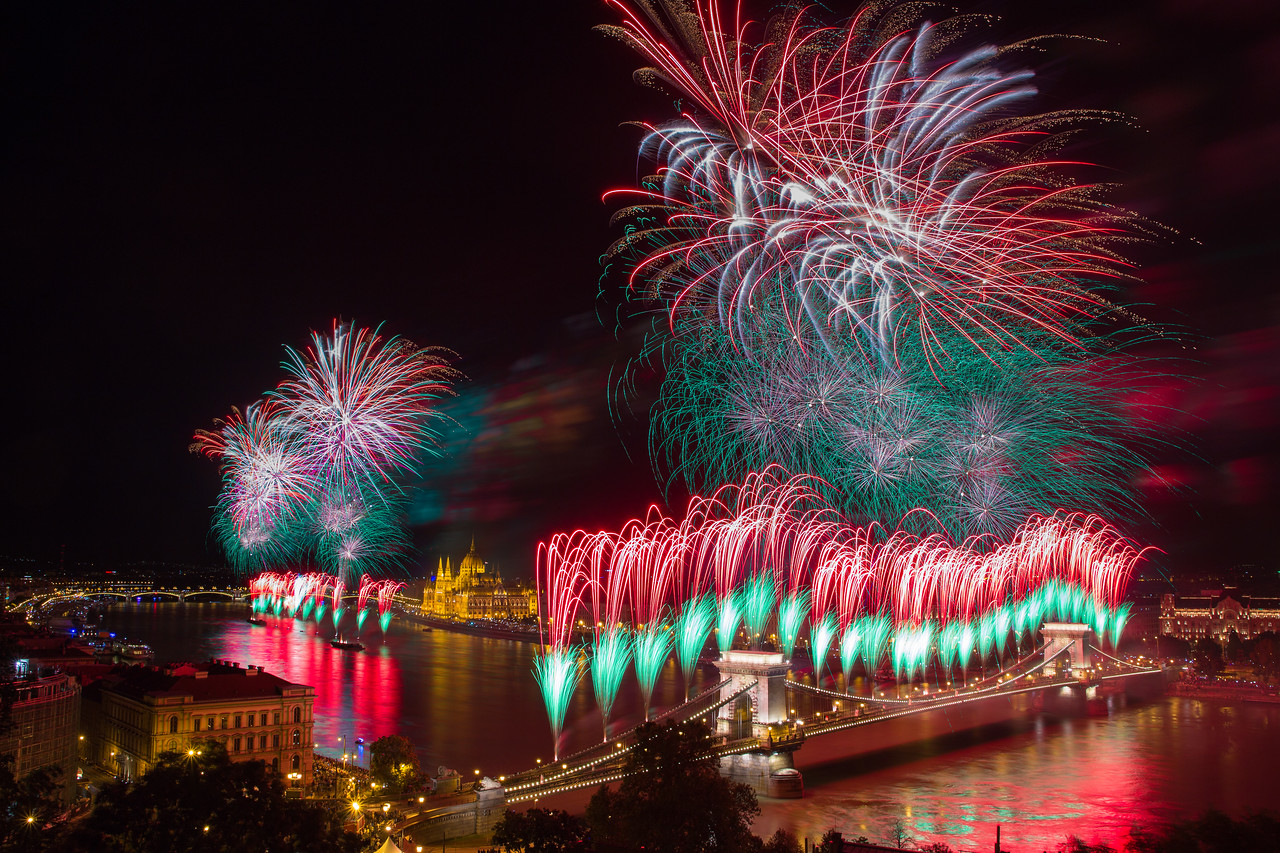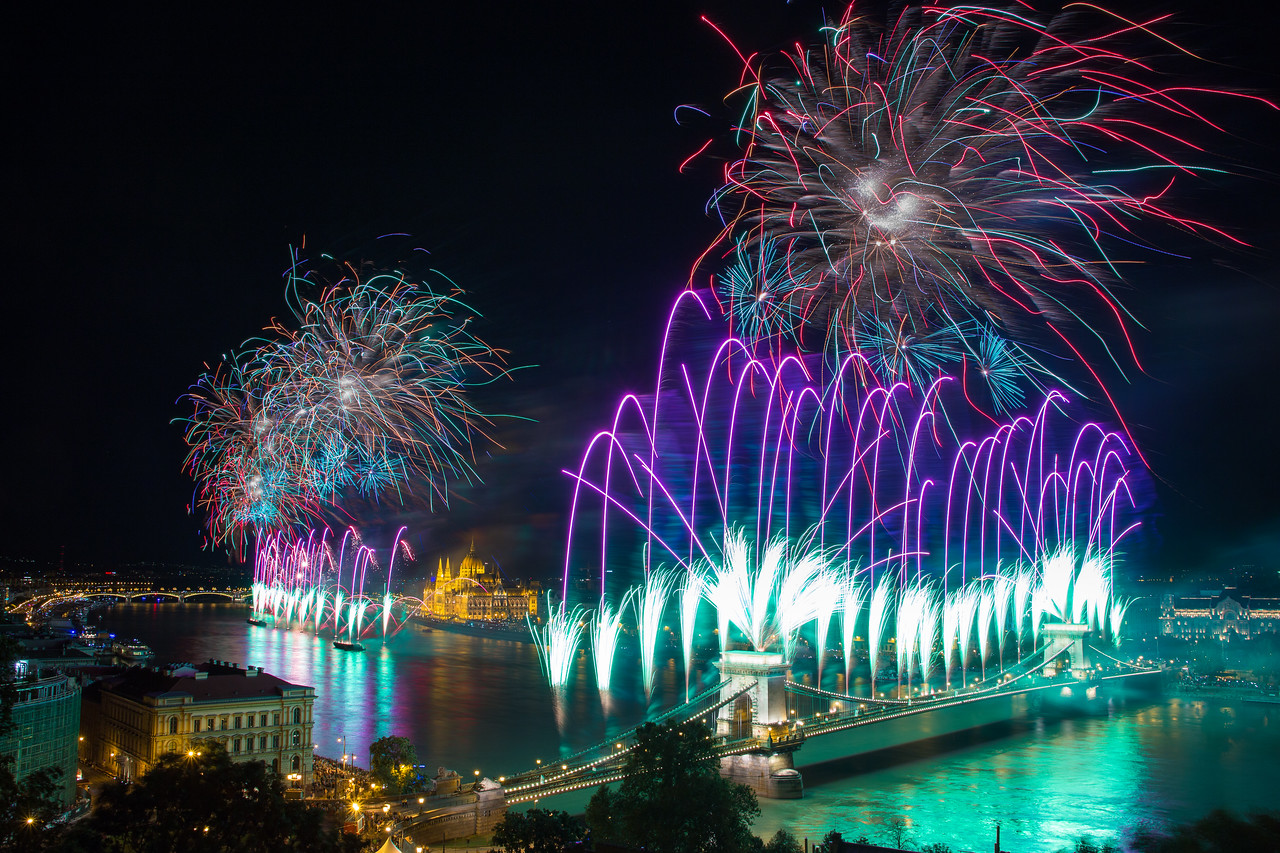 Technical details:
Canon 6D, 28-105mm F/3.5 – 4.5 USM, f/16, 4-6sec, ISO100
Stacking technique described here was used for this. The gist: the camera was on continuous mode, so after every shot there was another one immediately. The the best ones were picked and stacked in Photoshop.
Post-process: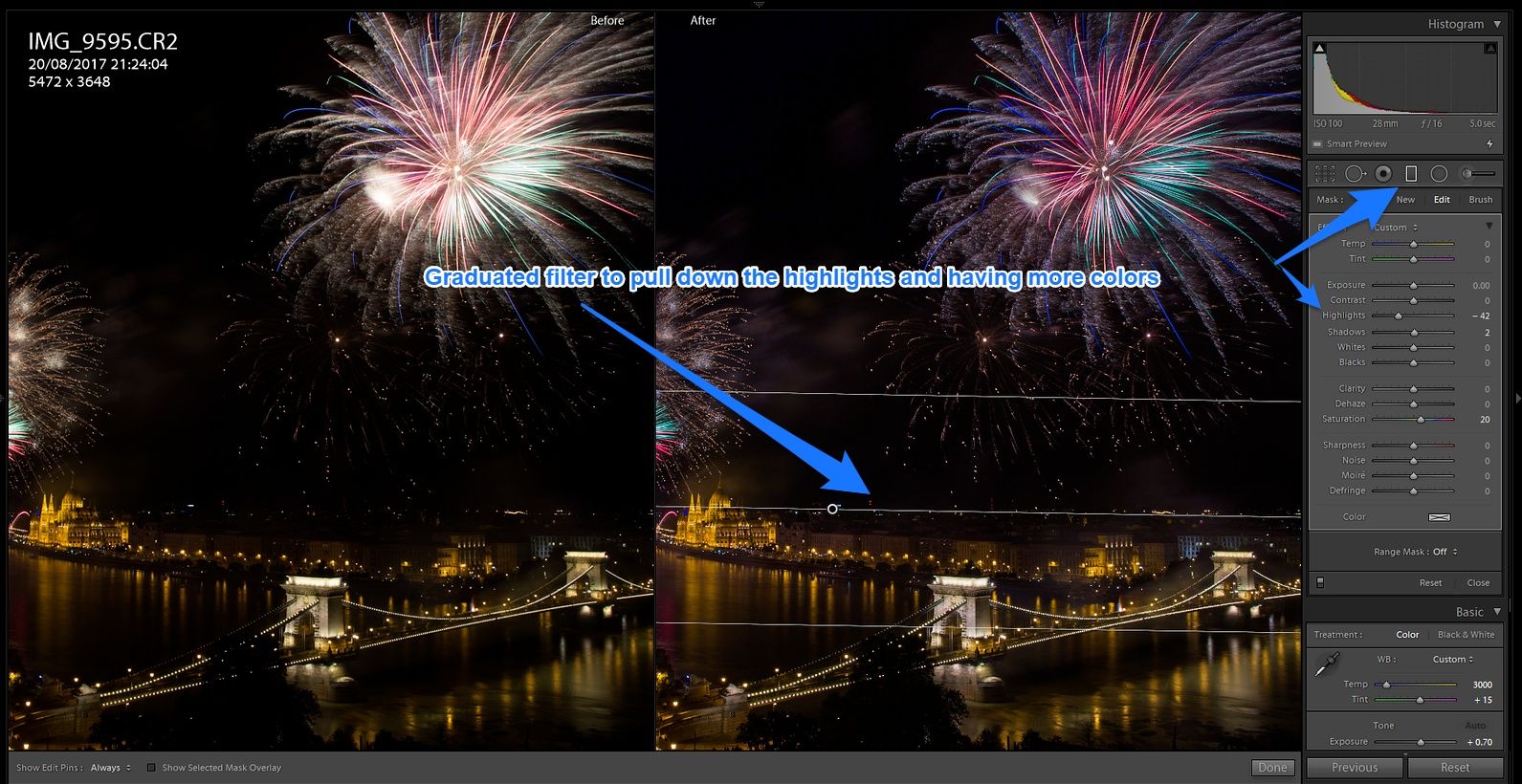 Fun time: quiz about Budapest!
Quiz about Budapest with lots of images. How do you measure up?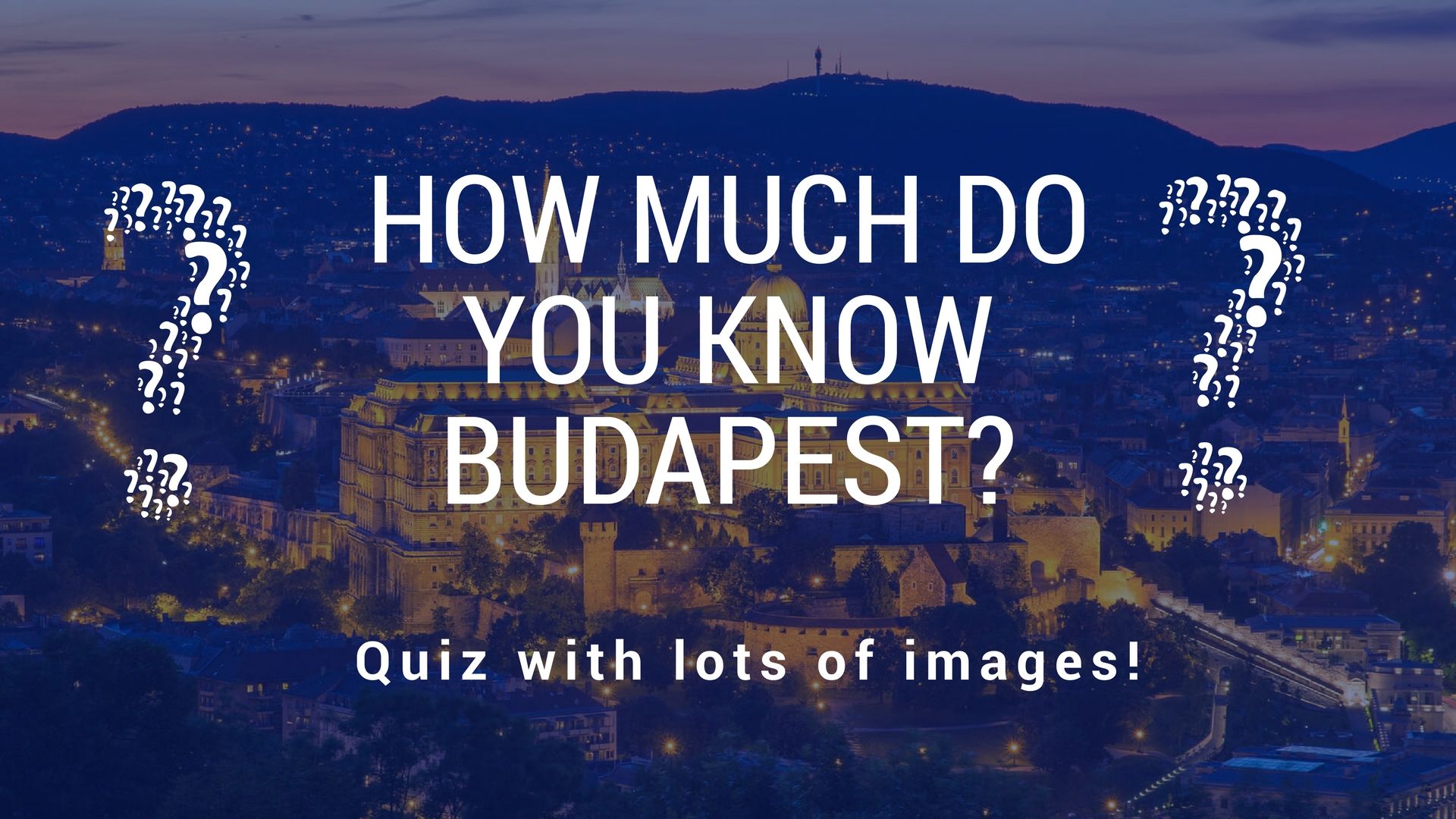 Milky Way over the Danube
On a chilly April dawn I set out to capture the stars over the Danube. Unfortunately, from here, the light pollution of Budapest outglows the center of our Galaxy, so just the arch of the Milky Way can be seen.

Technical details:
Canon 6D, Samyang / Rokinon 14mm, f/4, 25s, ISO3200
I put the camera into vertical orientation and took 11 frames for a panorama.
Post-process:
Then in Lightroom I processed one of the pics like this, and then synchronized the settings over the others.
After this, these images were put into a panorama with Lightroom's build in pano feature.

Full moon setting behind Visegrad Castle
I always love to compose some celestial object together with a landmark.
The medieval Castle of Visegrád was on my list to compose together with the setting moon.
I put my longest lens, the 70-200mm on my crop sensor body Canon 550D.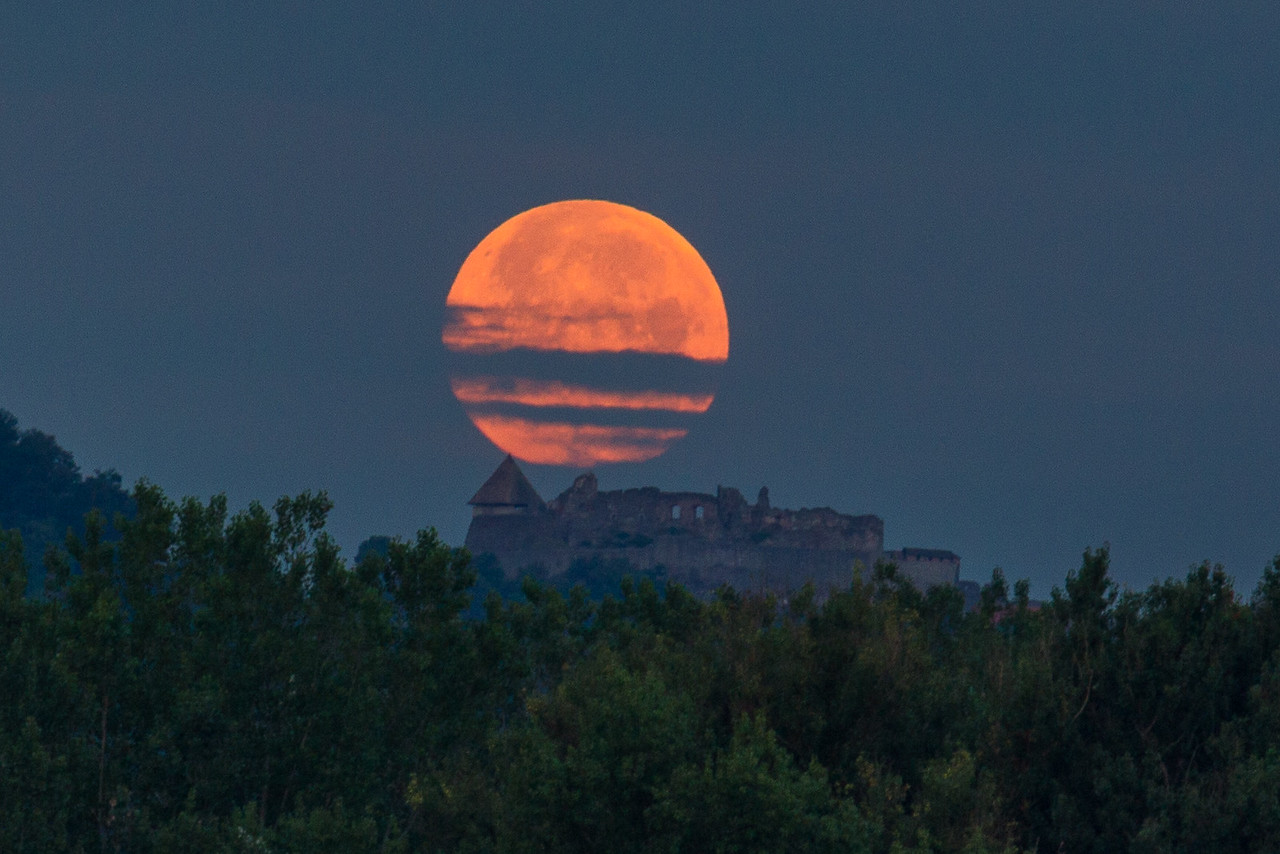 Technical details:
Canon 550D, 70-200mm F/4, f/10, 1/6sec, ISO200.
I used The Photographers Ephemeris to plan this shot. It's an awesome tool, very highly recommended for anyone planning astrolandscape photos, especially sunset, moonsets, etc.
Here's a screenshot for that specific image, or a direct link to it.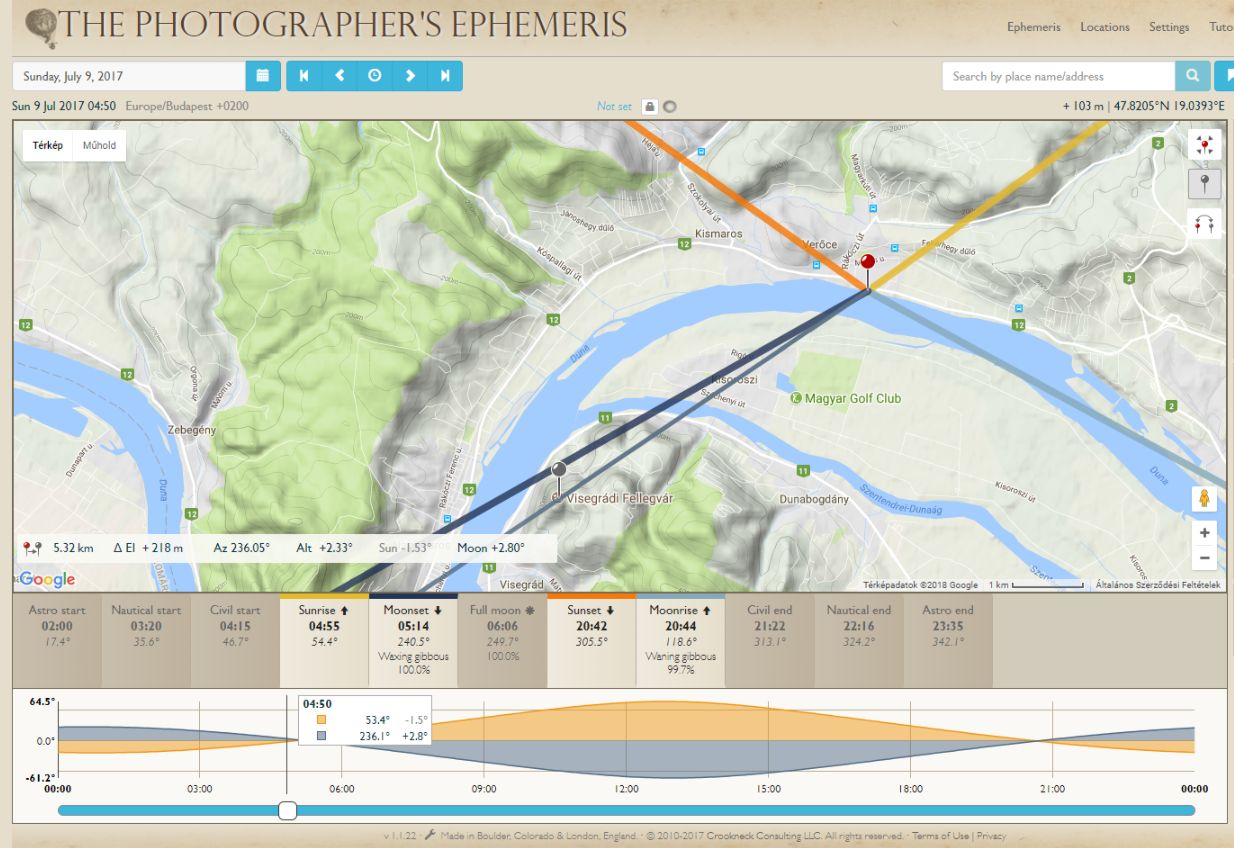 Post-process:
There wasn't anything special with this one, this is pretty close to how it came out of the camera.
Castle of Visegrád and the freezing Danube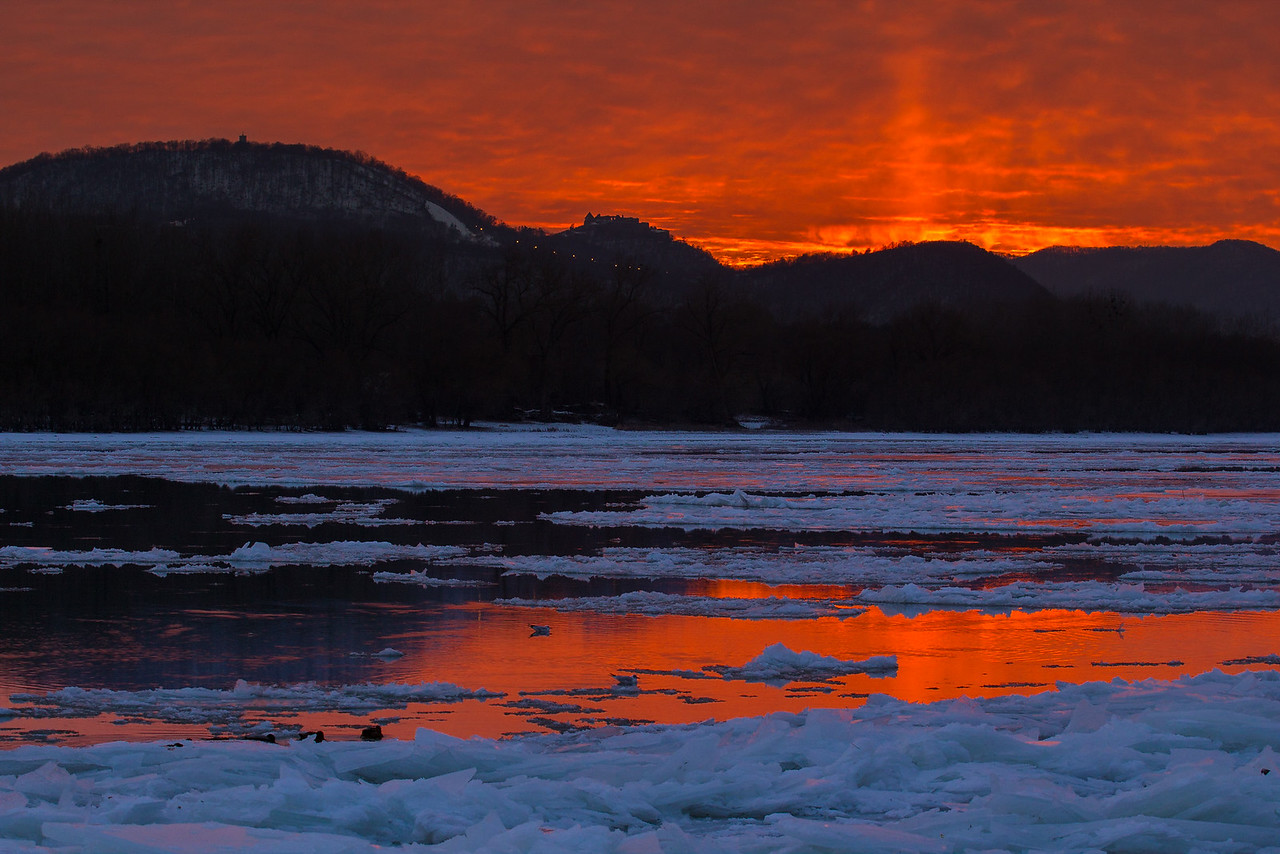 Technical details:
Canon 550D, 70-200mm f/4 at F/8, 1/40sec, ISO200.
I again used The Photographers Ephemeris to plan this shot.
Post-process:
This is another good example of how to use the Graduated filter, and the new feature of that, the Range Masks. With the Range Mask, you can tell the filter what luminosity or color you want to apply it on.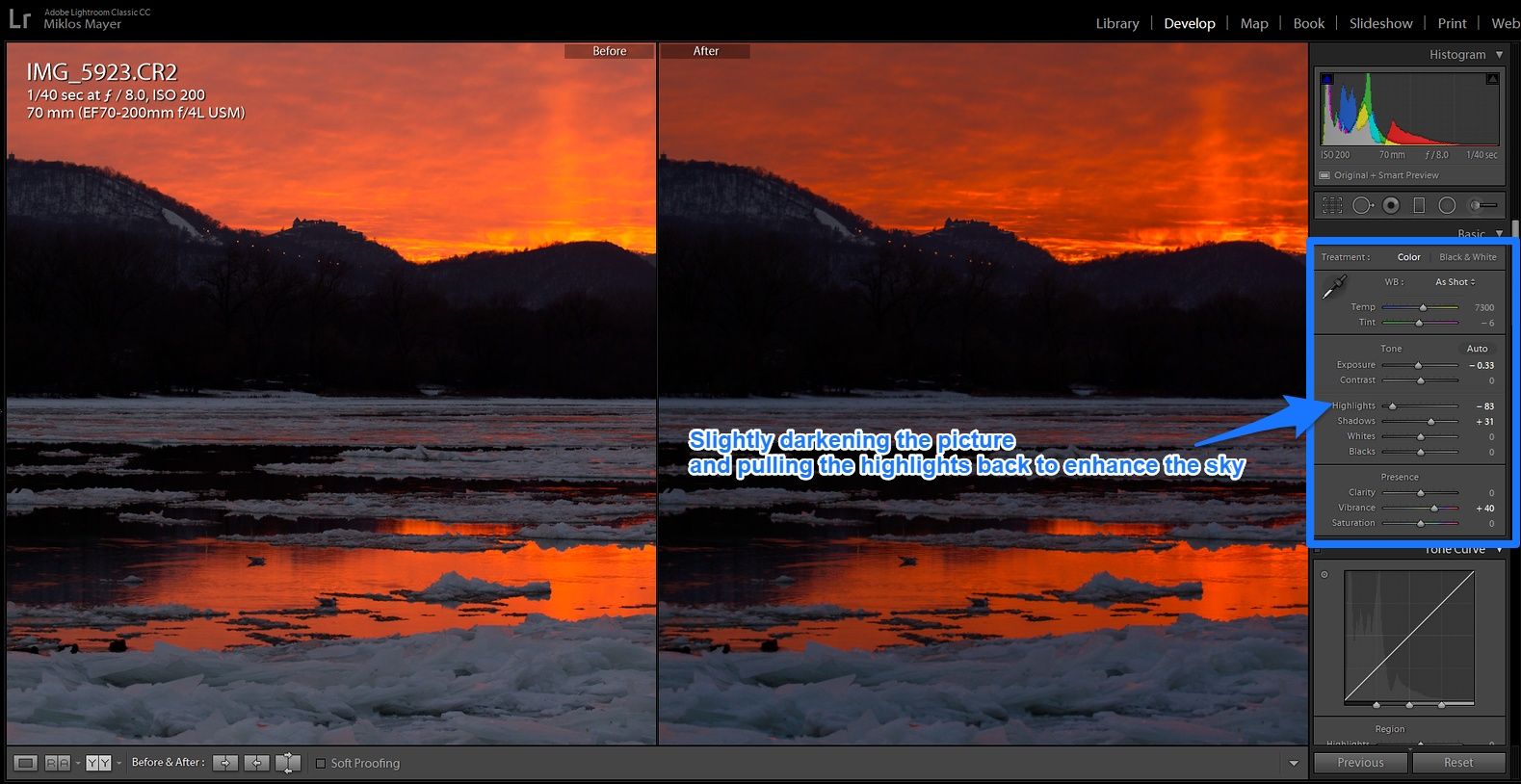 Looks okay, but I'd like the foreground to pop out more. So I applied the Graduated filter again. But I wouldn't like to loose the redness of the sky in the reflection, so I'll use the Range Mask again, and I can tell the filter what luminosity or color I want to apply it on.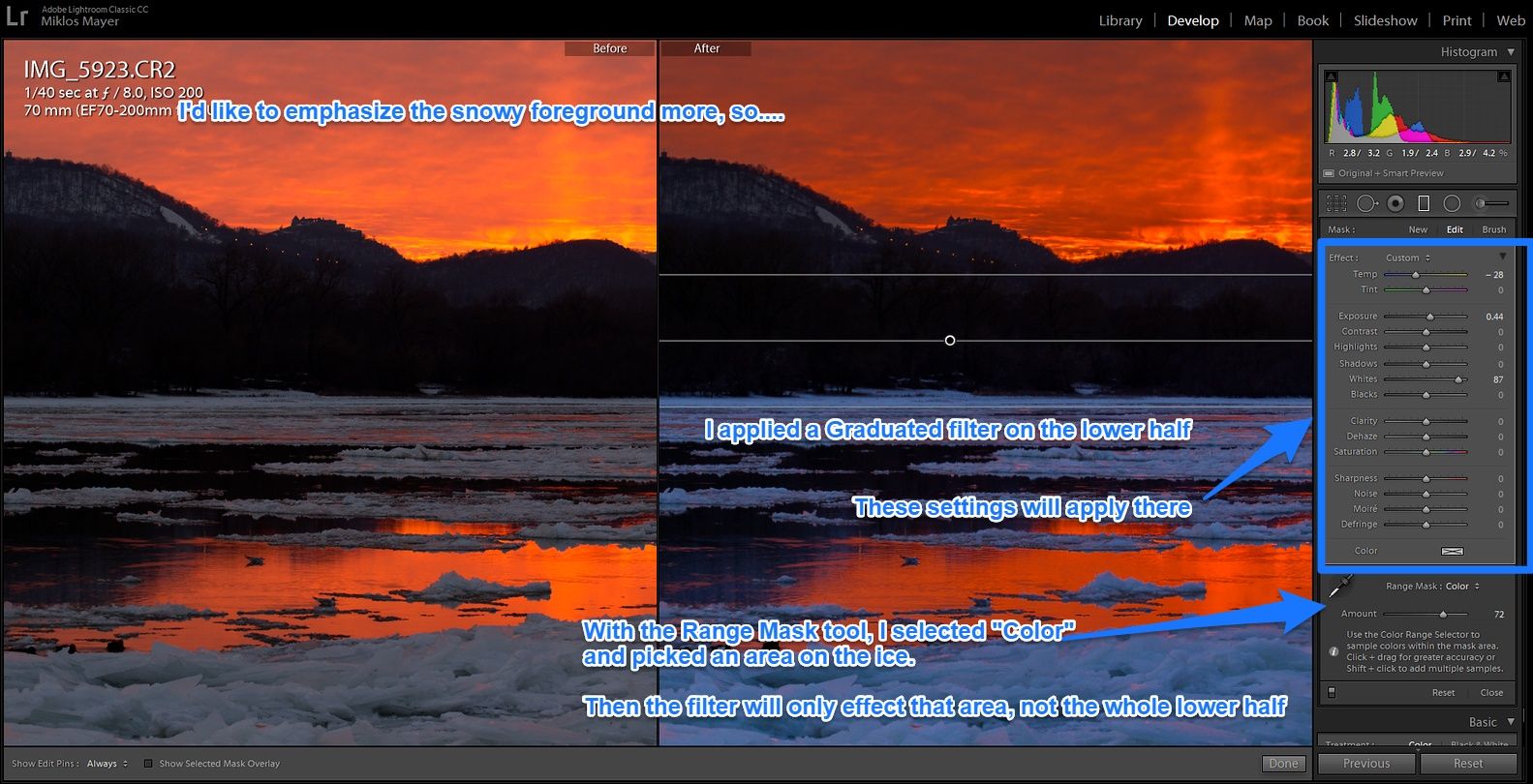 Spanning 40 kilometers
This pic was taken from Naszály mountain, near the city of Vác.
For me, this picture is very personal: in the foreground you can see Vác, where I actually live now, and Budapest in the far distance, where I work, and where I grew up.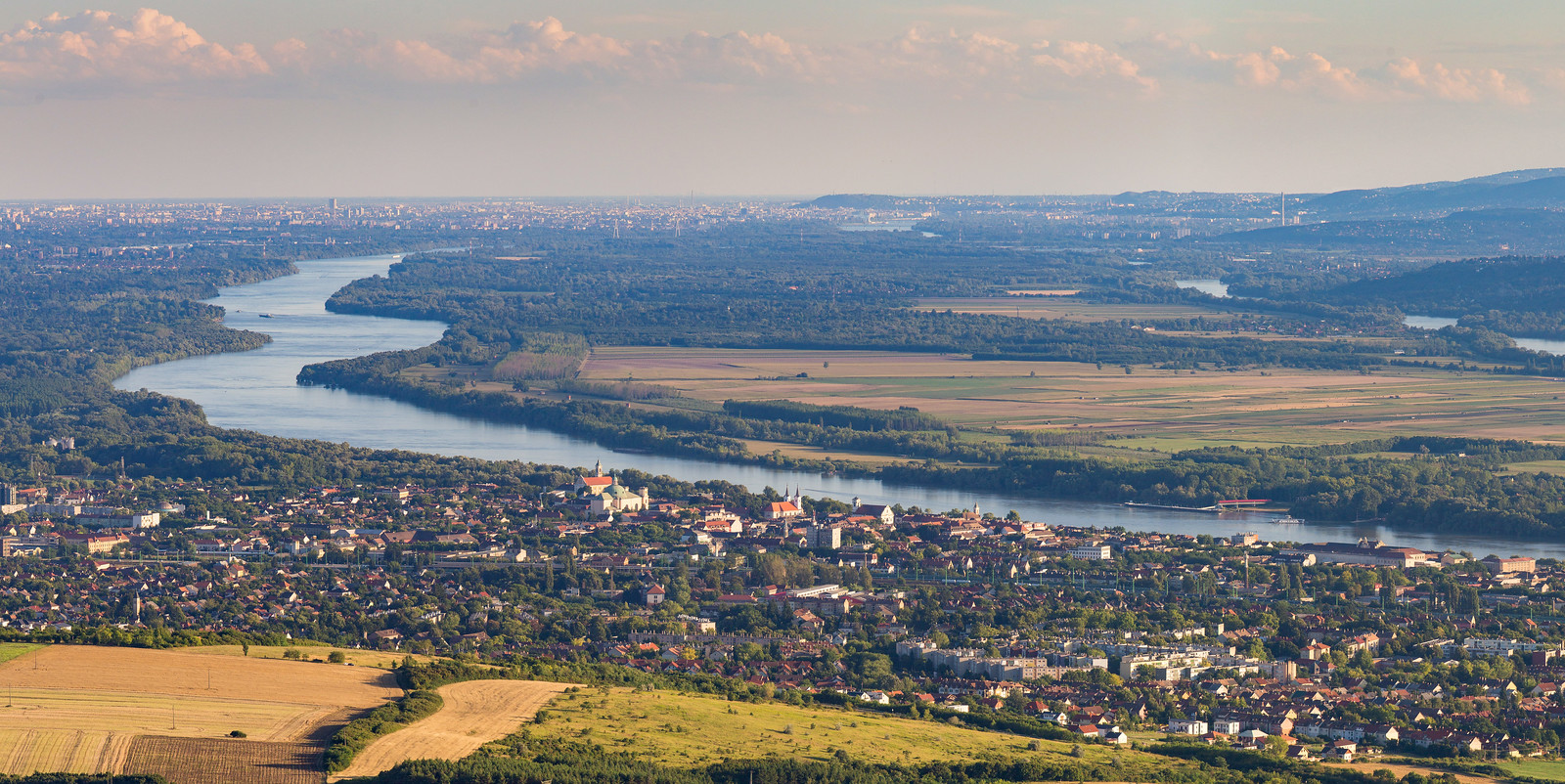 Technical details:
Canon 6D, 70-200mm F/8, 1/500sec, ISO200
Post-process: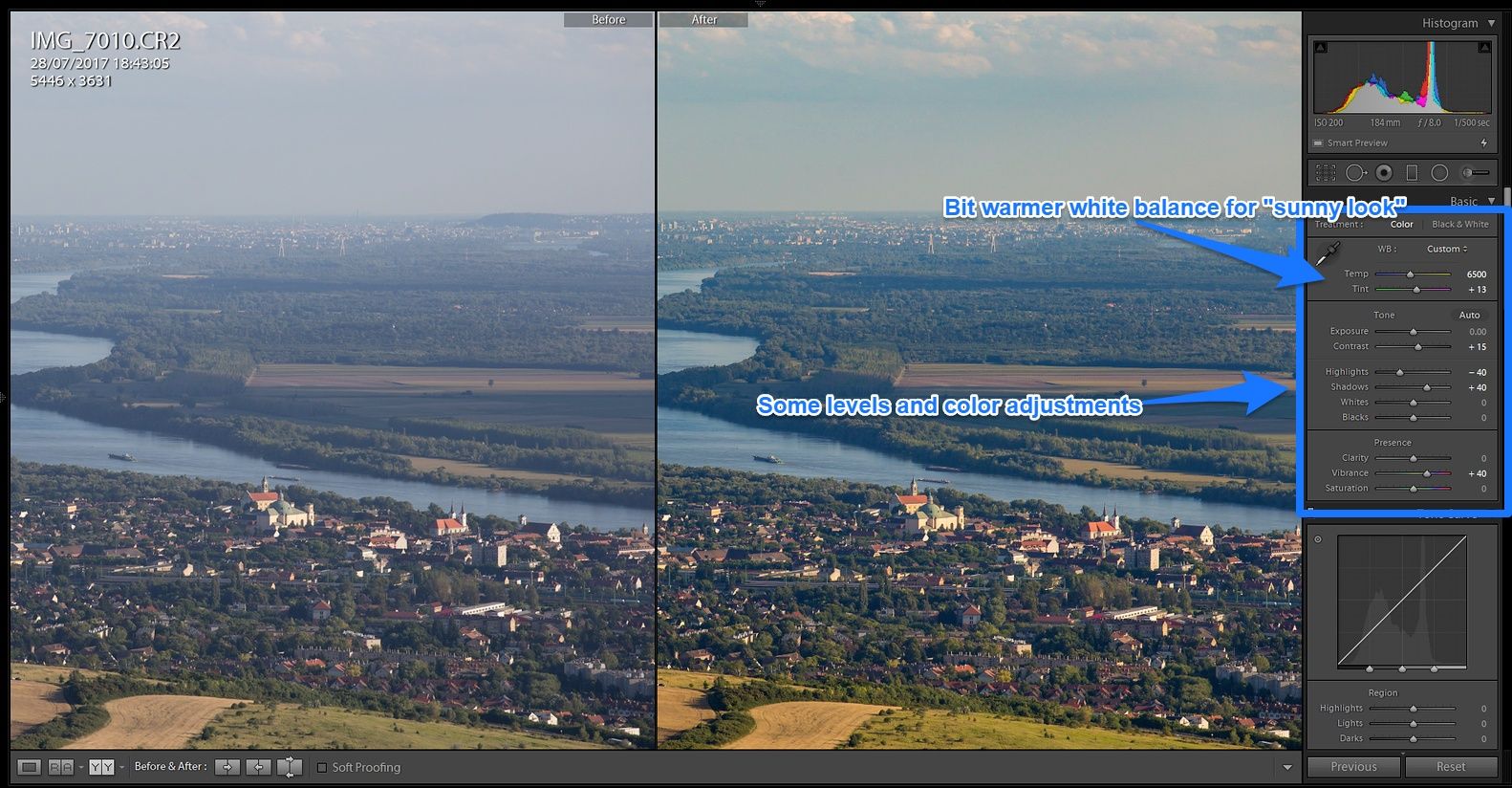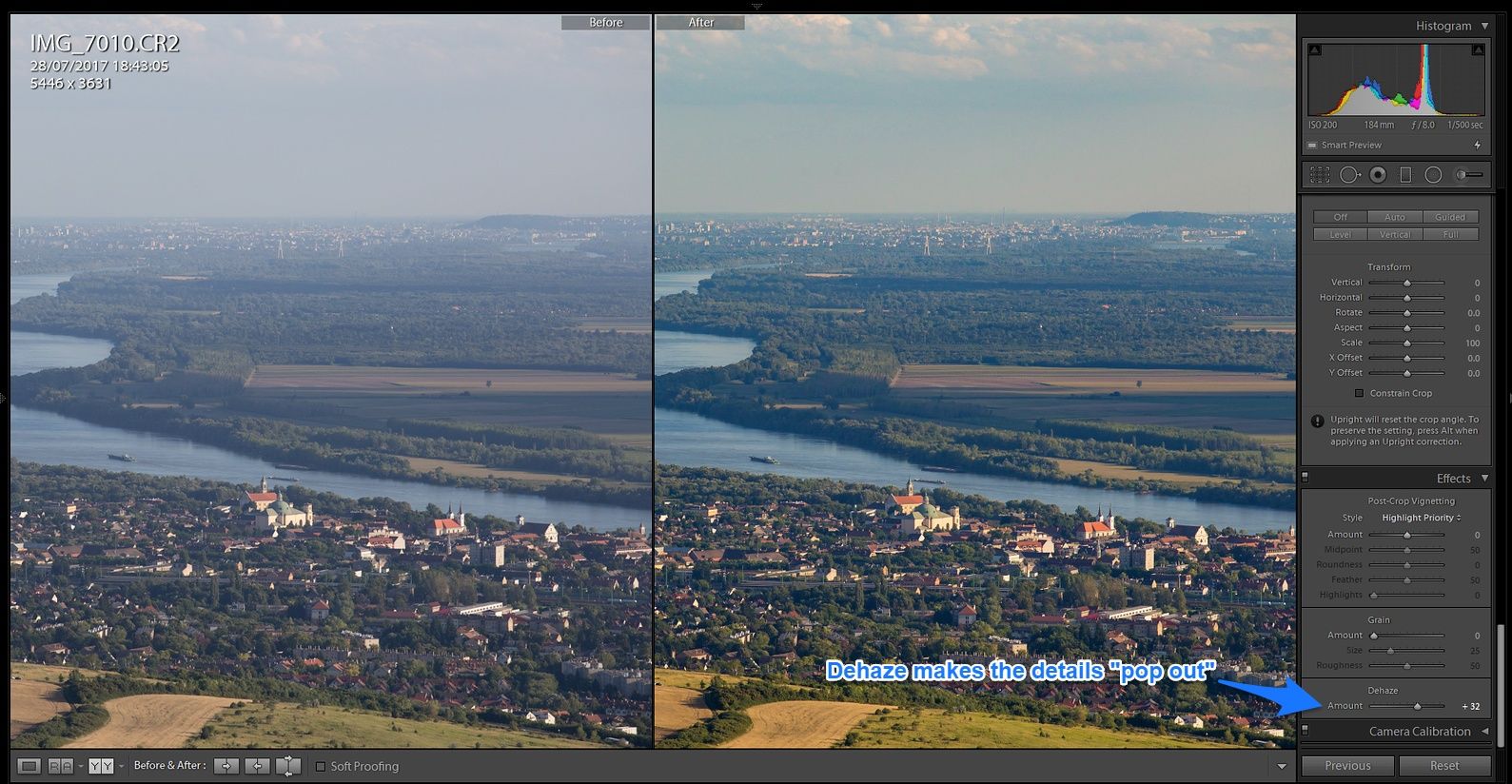 The last hug
I had a daytime tour with my canadian guest and we were approaching the Parliament from the shoes. While my guest was taking pics of the shoes, I turned backwards to admire the beautiful building behind us.
Then this couple caught my attention.
They looked like they were ending something with this hug. Don't know why, but this was my gut feeling. Luckily I could capture them.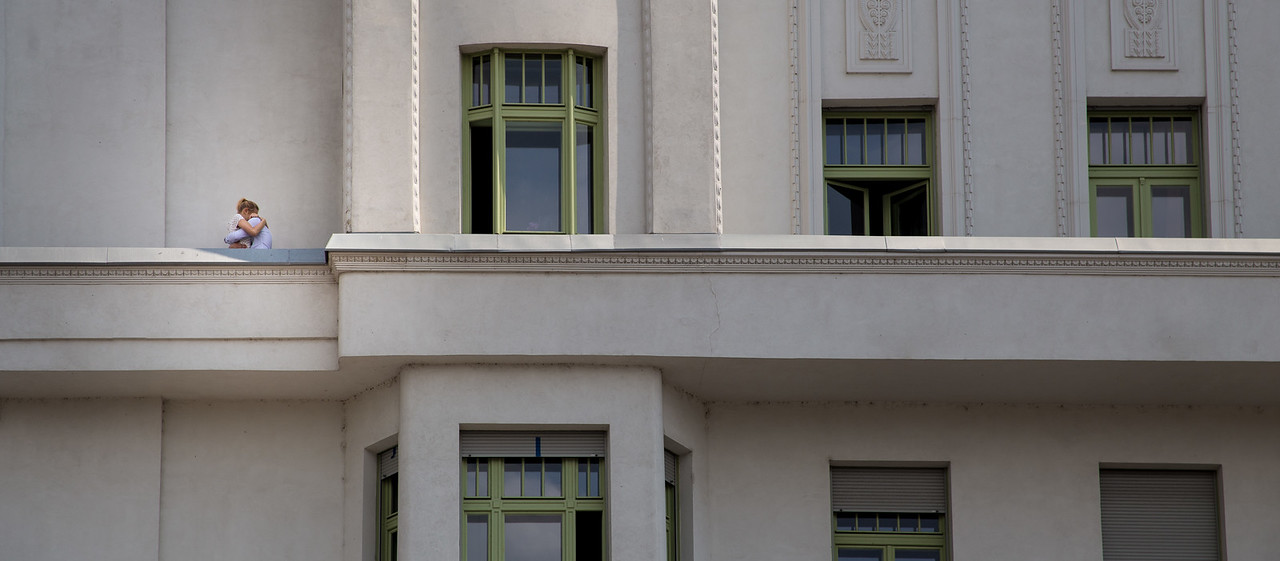 Technical details:
Canon 6D, 28-105mm F/3.5 – 4.5 USM, f/7.1, 1/400sec, ISO100
Post-process: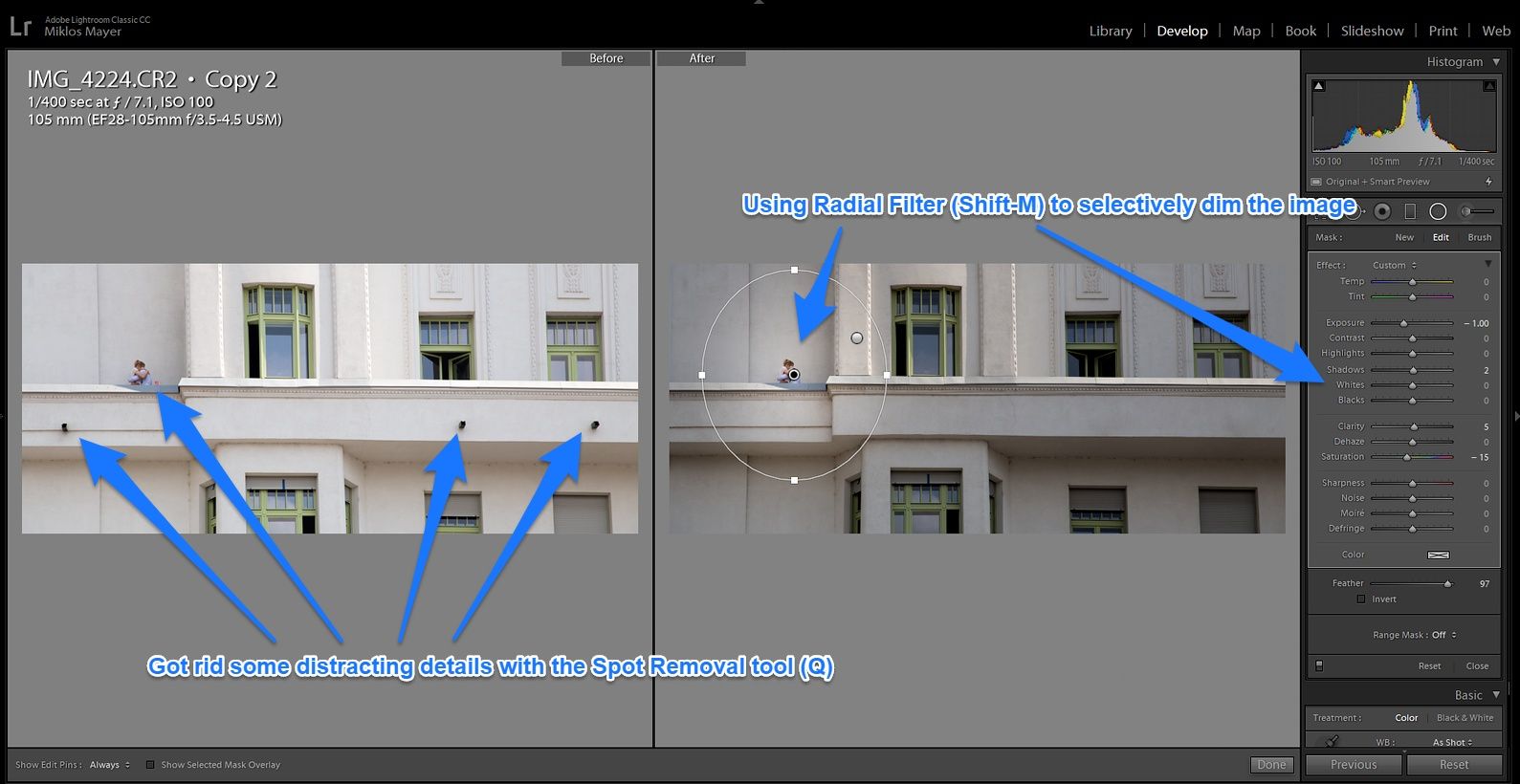 +1: Timelapse video of fog flowing in the Danube Bend
This is what I started 2017 with: climbed above the fog on the morning of 1st January.
Which picture is your favourite? Let me know in the comments!