I meet a lot of foreigners day by day on my tours and hear weird stories about taxis in Budapest.
A girl was charged 4x times the normal price when returning to her hotel from a party
Another girl was being asked 50 euros for a few minutes of ride
And these are not the only stories…
They could have easily avoided being ripped off, if they knew what every local in Budapest knows!
I'm going to tell this secret on how to pick a taxi in Budapest right now, but before it a few background facts:
#1 No Uber in Budapest anymore
When Uber entered Hungary many years ago, they quicky gained popularity and of course the taxi drivers didn't quite like them. Some Uber drivers were even beaten up!
The taxi drivers protested a lot and the government stood on their side, and in summer 2016, Uber was banned in Hungary.
Technically, Uber was not banned, but the law requires all passenger transporting company to have a phone call center, which wiped out Uber.
#2 All official taxis are yellow
In Budapest all the official taxis are yellow. There are no exceptions.
However, being an official taxi does not mean being a law-abiding driver… Read on to find out.
Good to know: Only those cabs are free where the TAXI sign is lit up on top.
#3 Everyone SHOULD charge the same fare
According to the local regulations of Budapest, every licensed taxi must charge the same fare.
The fare is calculated as a summary of:
base price: 700 forints
distance-based fare: 300 forints per kilometer
time-based fare: 75 forints per minute
Here's a taxi fare calculator by Főtaxi
So these are the prices that every cab driver should charge!
By now you must have guessed that this is not always the case…
And here's the secret:
There's a distinctive group of "bad" and "good" taxi drivers.
Yes, they are all yellow cars, but if you look closer, you'll see the difference.
So here's the secret of how to not be ripped off by taxi drivers in Budapest:
1. Freelancers – the "bad" group
How to spot them:
on the side of the car it says in English "Freelancer", a
and the taxi sign on top is in black.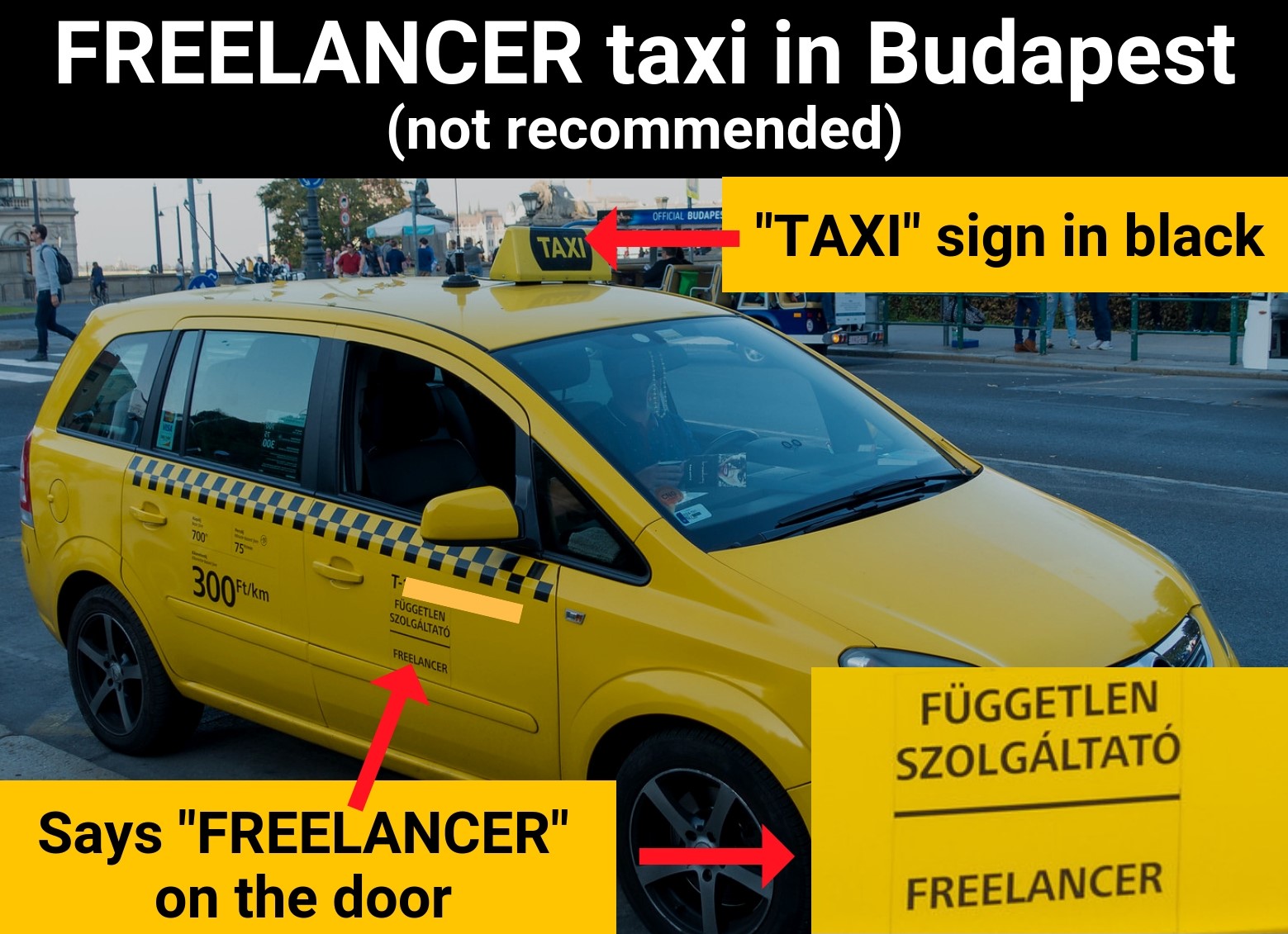 Under no circumstances get into a Freelancer car!
We call them 'hienas', like the scanvenging dogs.. Once they hear you're tourists, they'll most probably charge 3-5 times more. These are the guys who negotiate about the price before the journey, which is totally illegal.
Now I'm not saying all freelancers are bad. But all the rip-off stories are from people who went with freelancers.
2. Taxi drivers belonging to a company – the "good" group
How to spot them:
You'll see a company logo on the side of the car
on the top, the taxi sign bears the logo of the company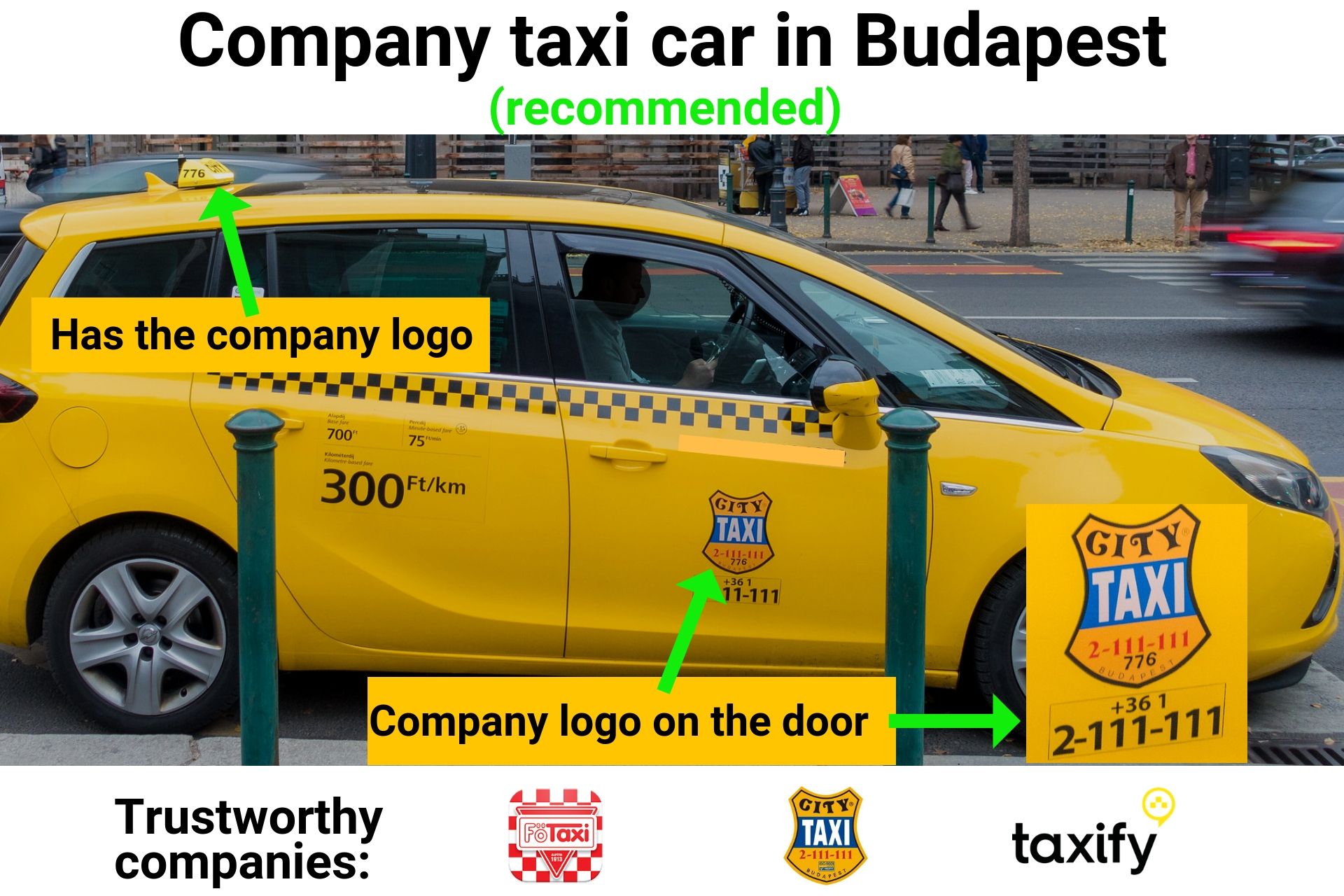 I recommend you use taxis from Főtaxi, Citytax, Bolt (formerly Taxify). They all have phone apps too.
I've collected everything about them here (you can download their apps by clicking on the logo):
For example Főtaxi is the official provider for the airport. They are the biggest taxi company in the city, having roughly 2,000 cars.
Personally, I've used Főtaxi for 3 years now, and never ever was I overcharged.
Nowadays, I also use Bolt (formerly Taxify) a lot. Their app is really similar to Uber.
The other reason to order taxis through apps in Budapest is that you can track down the car, if you forget something…
With any of these apps, you can always trace down the car and they'd return the lost items.
Once we had an expensive phone left in the car, and the driver could've easily got away with it, but he drove back from the other side of the city to give it back to my guest.
Of the companies, I avoid EliteTaxi, as they are semi-hienas, but they will never admit that they constantly trick the meter.
In practice this means…
If you need a taxi, it's best to call a company on the phone or via their apps
You should not hail a taxi on the street, unless you see which company it belongs to
If the driver is negotiating about the price, or want to convince you at all costs, just reject them
If the people of your hotel call a taxi, and it's freelancer, just don't take the ride, and insist on a company car
Summary on how to pick a taxi in Budapest
Avoid Freelancers (sign on the door, and on top)
go with companies like Főtaxi / Citytax / Bolt
It's safest if you call them via phone application
With these in mind you can enjoy our beautiful city and spend way less 🙂